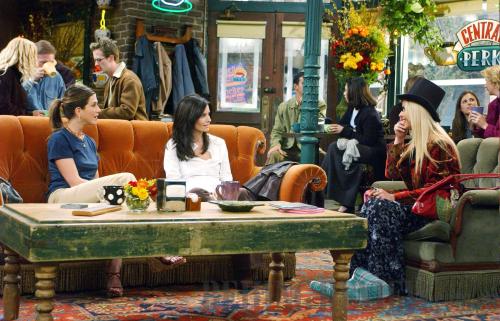 COFFEE TIME: A scene out of the popular U.S. sitcom Friends (CFP)
Shi Hailin, an investment project manager in Beijing, echoed Qi, noting that the sharp difference is a result of different production models. "In China, all the episodes were produced before being sold to TV stations for broadcast. Good or bad, as long as it is allowed to be aired, it will be broadcast to the end," Shi said. "In the United States, the destiny of TV dramas is determined by audience ratings. If ratings fall, the show faces cancellation. It's brutal competition. That's why U.S. screenwriters exhaust themselves with their wild imaginations."
Another attractive element for Chinese viewers is that shows can carry on for many seasons, allowing for viewers to better connect with the characters. In China, however, TV shows are often broadcast in their entirety within a month. Cultivating fan loyalty thus becomes difficult.
How are they affected?
The prevalence of American TV dramas has already weaved great power in the daily lives and social discourse of the Chinese people.
Zheng Yunfeng, an anchor with China Radio International (CRI), is a huge fan of American television. Shows he enjoys include The Big Bang Theory, Gray's Anatomy, Chuck and The Bible. Today, watching American TV dramas accounts for one third of Zheng's English learning time.
Shi also benefits a lot in terms of building language skills from watching American TV shows. Friends is also his favorite.
"At first, I would only watch it with Chinese subtitles. Later, I would watch it with English subtitles. Finally, I could understand most of it without subtitles," he said.
For Li Xiaoyu, a Beijing-based girl working in the legal fields and also one of the partners of Monica's Home, watching American television helped her to adapt culturally when she moved to the United States to study for a year.
"At first, I couldn't understand the logic of sitcoms. I couldn't see why they were funny at all," she said. "Then one day, I was in a gym using the treadmill and watching The Big Bang Theory. I laughed so hard that I fell off.
"This turned out to be very helpful for me to adapt to U.S. society when I later went to the country for further study," she said. "When my teacher told me a joke, I knew why it was funny."
Shi agreed with Li, saying that American TV dramas are a faster channel for people to learn about U.S. culture. "For instance, through dramas featuring superheroes, you can learn about the comics industry in the United States. By watching The Vampire Diaries, you learn more about folklore in the Western world."
Zheng adds that in addition to knowing about Western culture, he aspires to live the lives of his favorite show's characters. "When watching Friends, I tell myself this is my dream life!" he said. "I have similar friendships to those on the show. We have also talked a lot about the six of us living together renting a big apartment, or living near each other. But in real life, it's difficult for us to do that, especially when we work in different districts in such a big city as Beijing."
"I am most impressed by the friendship between them," he adds, "They help each other get through hardships and joys. I share the laughter and tears of the show," he said.
Coffeehouse owner Wu agreed. "American shows have a positive energy about them. If you are unhappy, watching several episodes of Friends can really cheer you up."
Email us at: zhouxiaoyan@bjreview.com