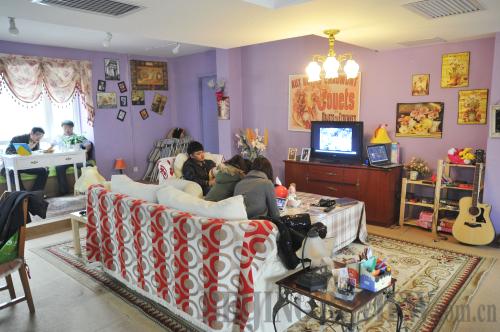 RELAX AT MONICA'S: Guests watch Friends at the Monica's Home coffeehouse (WEI YAO)
Not everyone is as lucky as Monica Wu, who knew exactly what she wants to do with her life since she was a little girl.
"I want to open a shop," said Wu. "That's what I want to do for a living. But I don't know what kind of shop or where to make it happen."
That was until American TV dramas ignited her dream.
Wu met a close friend of hers, who shares her hobby of watching American Television. And Friends was their common favorite. The international hit sitcom attracted a devoted following in China during and after its 10-year run.
"She wants to open a shop too. When we sat down together, watching Friends, an idea struck us. I am like the character of Monica on Friends, who enjoys cooking. She loves drinking coffee and has to have it every day, while Rachel on the show works at a coffeehouse. So, why don't we open a shop where people can enjoy top-notch coffee?"
The two began preparations. Wu learned how to make dessert from a New Zealand chef, and her friend followed a renowned barista to master coffee-making skills. In February 2012, a well-decorated and cozy coffeehouse named Monica's Home opened in Beijing, with exactly the same setting as Monica's apartment on the hit show.
Word spread on the Internet and fans of the sitcom showed up to show their support.
"None of the first three guests at my coffeehouse lives in Beijing. One is from Tianjin and came to our shop after hopping on the train. The other two came to us after learning about us on the Internet. We were deeply touched," said Wu.
"Many guests are die-hard fans of the show. One, with whom I only have contact with on the Internet, sent us the same poster as the one hanging in Monica's living room after he learnt we wanted to open the coffeehouse. When he finally came to my shop and watched Friends here, he astonished us all by being able to remember every line."
Chinese audiences got their first bite of American dramas through Man From Atlantis, which was first broadcast on China Central Television (CCTV) in 1980. With its fresh and exciting plot, the short-lived science fiction show won over the hearts of local viewers in no time.
And thanks to subtitle translations and online video sites, American TV programs continue to gain great popularity in China.
As the number of Internet users continues to grow considerably, more Chinese are turning to American Television to kill time, learn English and learn about Western culture.
Why do they watch?
Learning English is a key reason why so many young Chinese follow American programing, as watching them has proven to be an effective way to learn the language's colloquial form.
Another reason is that Chinese viewers are disappointed with home-made programming. Chinese audiences believe that American TV shows are strong in terms of story-writing, acting and creativity. In contrast, the stereotyped storylines and the lack of creativity of locally produced shows are routinely criticized by domestic audiences.
Qi Penghui is a Beijing-based radio frequency engineer. His favorite American TV dramas include Friends, Breaking Bad, Arrow, and The Walking Dead.
"I love American TV shows for their novel topics, ranging from ordinary people's lives to the super natural. Chinese dramas, however, have very limited scope. Recently, there are too many domestic TV dramas focusing on the relationship between women and their mothers-in-law. I really don't enjoy watching those."