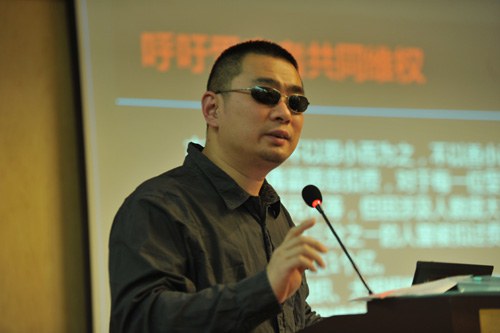 CLAIMANT: Wang Hai, a professional counterfeit fighter, at a press conference in Beijing in October 2011 (CFP)
In 1995, Wang Hai, a 22-year-old salesman from east China's Shandong Province, was studying for a law degree in his spare time when he stumbled upon a potential gold mine.
Article 49 of the Law on the Protection of Consumer Rights and Interests, also known as the Consumer Rights Law, which took effect on January 1, 1994, stipulates that businesses engaged in fraudulent operations when supplying commodities or services are to return the money paid by the consumer as well as pay compensation equaling the costs that the consumer paid for the commodities or services upon the demand of the latter.
"Before the law came out, consumers could only claim the money they paid for counterfeited products based on the General Principles of the Civil Law. However, Article 49 supports consumers' rights to further punitive compensation. This discovery enlightened me," Wang recalled when talking with Xinhua News Agency 17 years later.
On March 25, 1995, during a business trip to Beijing, Wang bought 12 fake Sony headsets for 85 yuan ($14) each at a shopping mall and went directly to the local administration for industry and commerce to file a complaint and demand compensation. As Article 49 of the Consumer Rights Law had not been invoked in legal proceedings before, Wang was asked to provide proof as well as quality appraisal reports produced by the quality inspection authority. Eight months later, Wang received a refund and an extra 1,020 yuan ($168).
In that year, Wang intentionally bought knockoff products, including belts and wallets, at 10 other shopping malls in Beijing and successfully claimed compensation totaling 8,000 yuan ($1,320) in one month alone.
Wang's initial successes in using Article 49 of the Consumer Rights Law to claim compensation were reported widely and earned him the title of "China's first professional counterfeit goods fighter."
On December 17, 1995, Wang became the first consumer to receive an award from the China Foundation of Consumer Protection for his anti-counterfeiting efforts.
"I would like to think of myself as both a citizen and a consumer-rights advocate," Wang told Xinhua.
However, on other occasions Wang told the media that his fight against counterfeiting is purely about money. "I am using a commercial approach to address a social problem," Wang once told Qingdao Morning News, a local newspaper in Shandong.
In 1996, Wang set up a company specializing in fighting counterfeit goods with its own legal team in Beijing. Wang told Xinhua that between 1996 and 2012, his team filed nearly 2,000 lawsuits that claimed compensation for a wide range of substandard products such as refined oil, steel, auto parts, dietary supplements, soft drinks and laundry detergent.
In Wang's interview with Qingdao Morning News in March 2013, he indicated that he had made more than 10 million yuan ($1.65 million) by exposing counterfeiting over the years and had founded four consulting companies in different cities, including the one in Beijing. His companies are paid generously by enterprises, such as pharmaceutical companies, to investigate and sue competitors who they allege have violated their intellectual property rights.
Following Wang's rise to fame, his followers quickly emerged throughout the country, starting a fledgling but growing consumer protection movement in China.
An amendment to the Consumer Rights Law, which was adopted in October 2013 and will go into effect on March 15, has increased the compensation standard for consumers victimized by fraudulent products or services. It is now three times the cost they paid for the products or services, and should be no less than 500 yuan ($82.5).
Controversy
However, the profit-based business model of those professional counterfeit fighters has also raised concerns. While Wang has been hailed as "a hero protector of consumer rights" by his supporters, he is also seen by others as abusing the law for profit.
After Wang had won many cases suing companies for producing or selling poor-quality goods, he encountered the first major setback of his career on January 7, 1998, when a court in north China's Tianjin denied his claim for compensation on the grounds that he could not be considered a consumer under the legal definition.