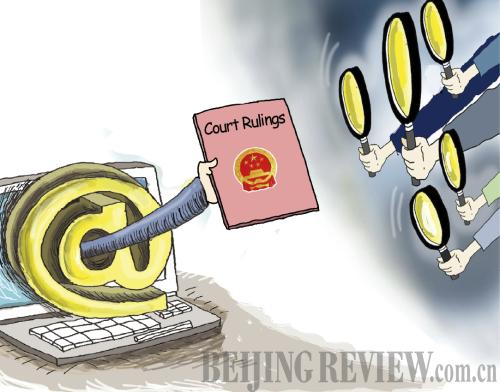 (CFP)
Starting from the first workday of this year, courts at all levels in north China's Tianjin Municipality have assigned a new task to a certain number of their staff members—posting written court judgments on the Internet.
The Higher People's Court of Tianjin has produced detailed rules for the work.
Zhang Mian, vice president of the court, told China Youth Daily that courts in Tianjin are expected to publish about 70,000 judgment documents online every year, a number he derived from figures recorded in 2012.
Zhang said that in 2012, Tianjin's courts received more than 193,800 cases, of which 35.6 percent were resolved through court proceedings and were awarded judgments as a result, while the remaining 64.4 percent were withdrawn after mediation.
With a large number of court rulings available online, Zhang said that litigants, agents ad litem and defendants can search for judges' decisions on similar cases and make comparisons, which will prompt judges to be more consistent when trying similar cases.
Rulings effective on or after January 1, 2014 are to be publicized first, while those reached in 2013 or earlier cannot all be put on online for now, Zhang said.
Tianjin courts' latest move to publish court rulings online was made in line with requirements of the Supreme People's Court (SPC), China's highest judicial body. Similar actions have also been carried out in other regions of the country.
"The initiative aims to make the judicial system more open," said Zhou Qiang, the SPC's President. "Judicial transparency is crucial to ensuring the independence of judicial authorities as well as in boosting public trust in the judiciary system."
Least restrictions
From January 1, 2014, judgment documents will be published on www.court.gov.cn/zgcpwsw within seven days after decisions are made, according to a regulation issued by the SPC last November. The court launched the website on July 1, 2013, for this specific purpose.
The regulation stipulates that published documents should not be amended, replaced or withdrawn.
Real names of parties involved in a lawsuit should be made public in the documents to ensure authenticity, according to the regulation.
The document also specifies exceptions. Cases involving state secrets, individual privacy or juvenile delinquency, as well as lawsuits settled through mediation or other situations unsuitable for publication, are allowed not to be published online. Rulings exempt for publication are to go through strict examination and approval procedures.
The SPC has asked courts to inform litigants about the range of judgment documents to be released online, and notify the general public about the initiative through multiple channels such as government websites.
Every year, Chinese courts produce more than 10 million rulings, said He Xiaorong, Director of the Judicial Reform Office of the SPC. He estimated that it will take three to five years to add judgment documents from all Chinese courts online.
Early in 2010, the SPC also released a document stating that courts are allowed to publish judgment documents.
Publicizing eligible court rulings was optional in accordance with the previous SPC regulation but it has now become mandatory under the new one, said Sun Jungong, a SPC spokesman, at a press conference last November.