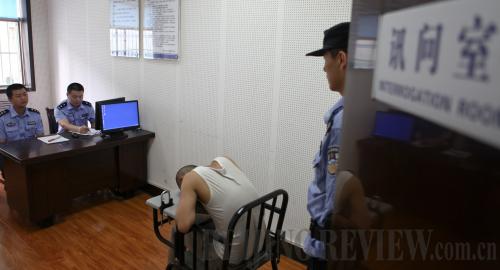 FULL OF REMORSE: Police officers interrogate a 17-year-old offender in Xi'an, Shaanxi Province, on July 12, 2012. He had stabbed a classmate with knife after quarrelling over an online game (CFP)
The brutality committed by a 10-year-old girl in southwest China's Chongqing Municipality that was captured on a surveillance camera shocked the country late last year.
On the afternoon of November 25, 2013, the girl entered an elevator and unexpectedly picked up a one-and-half-year-old boy when he went following his grandmother and was left. In the video footage shot by the camera in the elevator, the girl was shown hurling the toddler to the ground before beating and kicking him violently. When the elevator door opened on the 25th floor, the girl tossed him out of the elevator doors.
When the worried grandmother took the elevator to the 25th floor, she came across the girl coming back out of her home, but when she asked if the girl had seen the child she said that he had been taken away by a stranger.
The boy was found covered in blood only minutes later by a community guard, on the ground not far away from a bush. The girl later told the police that she continued to beat up the boy in her home's living room before taking him to the balcony, where the boy accidentally fell through the railings to the ground.
It took the boy a week to wake up from a coma, although he ultimately survived after undergoing major brain surgeries.
After netizens called for harsh punishment for the girl, she moved to Xinjiang Uygur Autonomous Region with her mother, who received a job transfer on December 2, 2013. Local police said that there would not be a criminal investigation against the girl, as she had not reached the age of criminal responsibility, which is 14 in China.
In China, children under 14 are deemed incapable of having committed criminal offences, while those aged between 14 and 16 are criminally responsible for only eight severe offenses: intentional homicide, intentional attacks resulting in serious injury or death, rape, robbery, drug trafficking, arson, causing explosions and poisoning.
China's juvenile population has exceeded 300 million, roughly equivalent to the total population of the United States. Results from various studies show that the number of extreme cases of youth crime is on the rise.
There have been a troubling number of examples in recent years. On October 24, 2012, a 12-year-old boy from Mile County, Yunnan Province, strangled an 8-year-old schoolmate on his way back from school to seek revenge over an argument.
On April 15, 2012, a 12-year-old girl from Hechi City, Guangxi Zhuang Autonomous Region, invited her classmate over to play, then stabbed her to death with a knife. The reason she cited was that she was jealous of the classmate's good looks.
The best way to punish and rehabilitate children and teenagers who have committed serious offenses is a topic that has attracted a lot of discussion by legal professionals in the wake of such incidents.
Ineffective rehabilitation
Statistics released by the China Juvenile Delinquency Prevention Research Society last November revealed that the average age that juveniles start acting out is 12.2 years old in China.
According to a survey conducted by the Harbin Mother and Child Hospital on 900 children aged between 2 and 5, around 20.8 percent of them showed aggressive behavior.
"Behind every problematic child is a poor education at home," said Zhang Shuqin, deputy headmaster of a primary school in Linyi City, Shandong Province. She said it is a pity that adults in China don't have access to parenthood training.
According to China's Criminal Law, if a person is not given criminal punishment because he or she has not reached 16, his or her parents or guardians are to be ordered to discipline them; when necessary, juvenile offenders may be taken in by government-run corrective facilities.