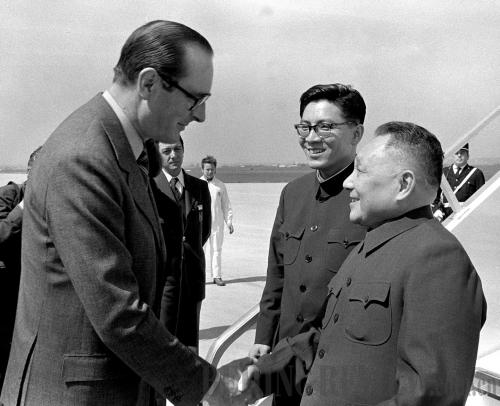 TRADITIONAL FRIENDSHIP: French Prime Minister Jacques Chirac (left) welcomes Chinese Vice Premier Deng Xiaoping to Paris on May 12, 1975 (XINHUA)
Timeline of China-France Relations
January 27, 1964: China and France establish diplomatic relations. France becomes the first major Western nation to recognize New China.
September 11-17, 1973: French President Georges Pompidou becomes the first Western European president to visit China.
May 12-18, 1975: Chinese Vice Premier Deng Xiaoping visits France in the first trip to a major Western state by a Chinese leader.
October 15-18, 1979: Chinese Premier Hua Guofeng conducts the first visit to France by a Chinese premier.
November 7-12, 1987: Chinese President Li Xiannian visits France, completing the first visit to the country by a Chinese president.
September 27, 1991: France sells six Lafayette-class missile frigates to Taiwan, severely damaging bilateral relations.
January 12, 1994: China and France issue a joint communiqué, in which France commits to ceasing arming Taiwan, thus re-stabilizing ties.
September 8-14, 1994: Chinese President Jiang Zemin pays a visit to France during the 30th anniversary of China-France diplomatic relations. The two countries agree to develop bilateral relations on an equal and mutually beneficial basis.
May 16, 1997: Chinese President Jiang Zemin and visiting French President Jacques Chirac sign a joint statement agreeing to establish a "comprehensive partnership."
January 26-29, 2004: Chinese President Hu Jintao pays a three-day visit to France, during which the two countries pledge to forge a "comprehensive strategic partnership," opening a new chapter in China-France relations.
November 25-27, 2007: French President Nicolas Sarkozy visits China.
2008: China-France relations are temporarily damaged by Sarkozy's meeting with the Dalai Lama.
April 1, 2009: China and France restore bilateral ties with the release of a joint press communiqué, in which France reaffirms its adherence to the one-China policy and the position that Tibet is an integral part of Chinese territory.
2009: France becomes China's fourth biggest trade partner within the European Union, whereas China is France's No. 1 trade partner in Asia.
November 4-6, 2010: China and France sign a series of cooperation agreements during a visit to France by Chinese President Hu Jintao.
April 25-26, 2013: French President Francois Hollande visits China.
(Compiled by Beijing Review)