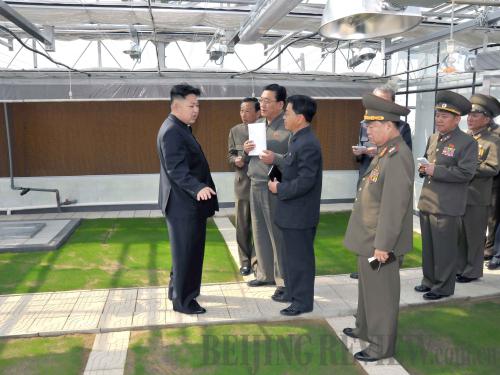 INSPECTION: North Korean leader Kim Jong Un visiting the Turf Institute under the State Academy of Sciences in Pyongyang in May 2013 (XINHUA/KCNA)
Kim Jong Un was always an unknown quantity. When the Workers' Party of Korea chose the 28-year-old to lead North Korea on December 30, 2011, analysts across the world had a tough task trying to present accurate forecasts for the future of the Northeast Asian country. The global community had hoped that the young leader could bring positive change to North Korea, while also being acutely aware that his lack of governing experience, coupled with North Korea's traditional military-first politics, could result in decisions that would upset stability on the Korean Peninsula.
Two years later, when Kim Jong Un held a memorial ceremony for his father—late North Korean leader Kim Jong Il, the confusion Pyongyang has brought to the world during the leadership transition has become more acute.
Mixed signals
Since taking office, Kim Jong Un has made progress in North Korea's economic and social sectors. The new leader has attached greater importance to people's livelihoods and taken inspection tours across the country. He has instructed North Korean enterprises to ensure production and the economy are developed according to global trends, in order to build a prosperous country. North Korea has instituted some economic reform measures, such as setting up economic zones at both central and local governmental levels and easing government control of enterprises and rural cooperatives.
Meanwhile, the radical foreign policy of Pyongyang, especially in the military and security fields, has made a strong impression on the outside world. For the past two years, Pyongyang has declared itself a nuclear country in its constitution, launched satellites, tested its nuclear weapons for the third time, closed the Kaesong Industrial Zone, announced its permanent withdrawal from the six-party talks aimed at resolving the North Korean nuclear issue, as well as having abolished the Korean Armistice Agreement.
Though Pyongyang did not wage a "real war," its self-contradicting domestic and foreign policies continue to confuse the international community. Even China, which is believed to have kept a special relationship and direct communication channels open with North Korea, is not clear on Pyongyang's direction. The above factors have directly led to a lack of confidence for all parties over the stability of the Korean Peninsula, as well as setting up dialogue with Pyongyang.
What has been particularly ominous is that the nature of the North Korean nuclear issue has changed after Kim Jong Un took power. Nuclear capability is no longer a bargaining chip for Pyongyang to use in exchange for security guarantees from other parties; instead, it is becoming a strategic deterrence that forces other parties to meet its demands. Such a change, which conforms to the fundamental interests of none of the parties, is not conducive to the lasting peace of the Korean Peninsula.
Washington and Seoul have turned a cold shoulder to the change in Pyongyang's nuclear strategy. They have kept a low-level communication channel open with Pyongyang and refused to grant North Korea de facto nuclear power status. The two also proclaimed that only when Pyongyang takes steps to suspend or renounce its nuclear program, will they restart negotiations. During the past two years, frequent joint military drills by the United States and South Korea in waters adjacent to North Korea have seen tough words from Pyongyang, shocking the world.
In the meantime, while China and Russia have tried to urge the United States and South Korea to exercise restraint, they sided with the UN Security Council in condemning and applying sanctions on North Korea's nuclear activities. Beijing and Moscow also made joint efforts to persuade Pyongyang to give up its nuclear program via political communication channels.
Forced with unprecedented international isolation, Pyongyang has adopted limited and hesitant alleviating measures with Washington, Seoul and Beijing since the spring of 2013. Celebrity U.S. basketball star Dennis Rodman has paid several visits to North Korea, his latest occurring on January 6. Kim Jong Un has met Rodman twice and asked him to send word to Washington that he hopes to receive a phone call from U.S. President Barack Obama and that he doesn't like war.