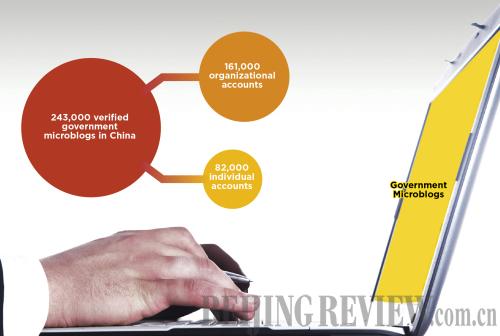 'I have been waiting and waiting. Here comes the north wind. The haze is finally leaving us.' This post, appearing on the microblog page of the Beijing Meteorological Bureau on October 29, 2013, grabbed a lot of attention online as this useful weather forecast was an adaptation of a famous Chinese prose, Spring. The original reads, "I have been waiting and waiting. Here comes the east wind. The spring is finally walking toward us."
This creative weather update epitomizes the efforts and determination of government agencies in China to enhance their communication with the public through social media, a trend that has been developing rapidly over the past two years.
According to People's Daily, at the end of September 2013, the number of verified government microblogs on China's two most popular microblogging platforms—Sina Weibo and T.qq.com—totaled 243,000. The accounts included 161,000 run by organizations and 82,000 by individual civil officials.
Last December, Sina.com, which owns Weibo, issued a report on the development of government microblogs in 2013, in conjunction with the Public Opinion Analysis Office of People.com.cn. It said that there were 100,000 government microblog accounts on Sina Weibo at the end of October, an increase of 67 percent from the previous year.
Some 66,800 of these accounts are run by Communist Party of China (CPC) committees, legislatures, government departments, political advisory bodies, Party disciplinary watchdogs as well as judicial and prosecutorial agencies and government-affiliated public service institutions. The remaining 33,200 are kept by officials and staff members at such agencies, the report said.
It added that 24,300 of these accounts belong to departments dealing with political and legal affairs and their workers, including 17,300 organizational and 6,991 individual accounts.
On December 18, 2013, the official website of the Chinese Government opened two more microblog accounts on Sina Weibo and People.com.cn. Before that, it had already operated two microblog accounts at Xinhuanet.com and T.qq.com, as well as an account on WeChat, an instant messaging app with more than 400 million users. In a statement, the website said that it will use these accounts to publish important information.
In addition, many central government departments launched microblogs on Sina Weibo last year, including the People's Bank of China, the State-owned Assets Supervision and Administration Commission of the State Council, the Ministry of Land and Resources, the China Securities Regulatory Commission, the China Insurance Regulatory Commission and the Chinese Academy of Sciences. The website now hosts 77 microblog accounts belonging to ministerial-level authorities, which is 31 more than in 2012.
Better communication
The rapid increase in government microblogs has given officials a more direct and efficient channel for communicating with the public.
In late November 2013, Sina.com initiated China's first microblog-based question and answer session between central government departments and Internet users. Spokespersons and senior officials from seven ministerial-level authorities replied to 133 questions on issues such as the reform of state-owned enterprises and the social security system.
On August 15, 2013, an anonymous microblog post went viral when it announced that, according to the health authority of Urumqi, capital city of northwest China's Xinjiang Uygur Autonomous Region, 567 women working at entertainment venues in the city were found to be HIV positive.
Five days later, the health authority of Urumqi posted a declaration on its official microblog, denying the allegations. It said that the city's disease control agencies are in charge of conducting regular HIV/AIDS-related behavioral monitoring on high-risk groups and providing free and voluntary tests, the results of which are confidential and unavailable to the public.
Some local governments and organizations have also successfully used microblogs to tackle livelihood problems.