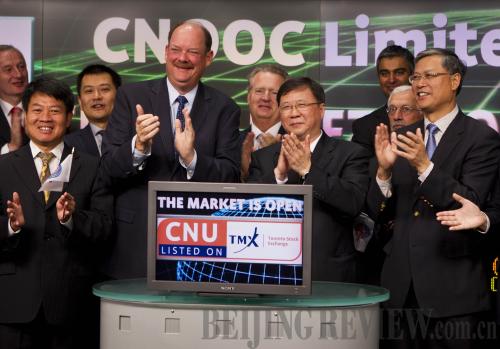 China National Offshore Oil Corp. Ltd. gets listed at the Toronto Stock Exchange on September 18 (ZOU ZHENG)
Overseas Investment Boom
Chinese outbound investment rose a dramatic 28.3 percent in the first 11 months of the year as the world's second largest economy acquired foreign assets amid its growing global economic clout.
In February, China National Offshore Oil Corp. Ltd. completed the country's largest overseas takeover by acquiring Canadian oil and gas company Nexen for $15.1 billion.
In October, Shuanghui International Holdings Ltd., China's largest meat producer, acquired U.S. pork giant Smithfield Foods Inc. for $7.1 billion, the largest acquisition of an American firm by a Chinese one.
Outbound investment, calculated on the basis of deals closed, rose to $80.2 billion during the January-November period, exceeding the $77.2 billion for all of last year, according to the Ministry of Commerce.
Despite surging figures, Chinese companies are frequently excluded from overseas markets.
On January 31, the U.S. International Trade Commission (USITC) initiated a Section 337 investigation into wireless devices from four communications companies, including Huawei and ZTE, for patent infringement. In July, the USITC also announced a Section 337 investigation into Sany Heavy Industry, the largest machinery manufacturer in China, and its American branch for patent infringement.
A technician in Yongqing, Hebei Province, checks solar panels to be connected to the power grid on August 30 (LI XIAOGUO)
Trade Disputes
As China becomes a major power, the country has been targeted in trade spats more frequently. From January to November, the number of trade disputes targeting China reached 80, up 12 percent year on year.
China and the European Union (EU) were mired in a tug of war over solar duties at one point.
After investigations lasting nearly a year, the European Commission declared the levying of a provisional anti-dumping duty of 11.8 percent on imports of solar panels, cells and wafers from China, from June 6 to August 6, and the duty was to be raised to 47.6 percent if a compromise was not reached between the two parties.
On July 27, five solar panel groups, including the China Chamber of Commerce for Import and Export of Machinery and Electronic Products, announced that an agreement had been reached to allow Chinese solar panel imports access to the majority of the EU market at a minimum set price.
Monosodium glutamate, a flavor enhancer, has been the latest target in China's ongoing trade battles. On October 24, the U.S. Department of Commerce announced an anti-dumping and countervailing investigation into imports of MSG from China.
Meanwhile, China's Ministry of Commerce began an anti-dumping and anti-subsidy investigation into wines imported from the EU on June 5. It also initiated anti-dumping duties against imports of toluidine originating from the EU as of June 28.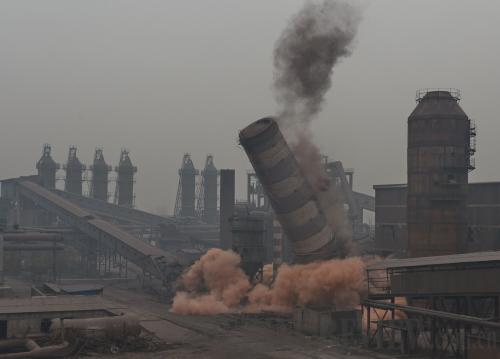 A 450-cubic-meter blast furnace belonging to Tangshan Xingye Industrial & Trade Group Co. Ltd. in Hebei Province is demolished on November 24 (YANG SHIYAO)
Reducing Overcapacity
The Chinese Government has vowed to tackle the thorny issue of overcapacity that plagues certain industries, and has greatly hindered economic development, posing a severe challenge to the natural environment.
On October 15, the State Council issued the Guidelines to Tackle Serious Production Overcapacity, which listed five sectors with particularly pressing overcapacity problems—cement, electrolytic aluminum, sheet glass, shipping and steel—and claiming that such excess would lead to a drop in revenues and mounting risks. The State Council required related ministries and commissions to formulate detailed measures.
As a result, on November 13, the Ministry of Industry and Information Technology issued a document on thresholds for the shipbuilding industry, putting forward specific requirements for production facilities, equipment, measurement and detection, construction technical capacity, technology innovation, quality assurance system, energy conservation, and environmental protection. Enterprises that fail to meet these requirements will be shut down.
The Ministry of Land and Resources announced on November 15 it would strengthen control of land resource development and stop approval of land use for projects in the steel, cement, electrolytic aluminum, sheet glass and shipbuilding industries with serious surplus capacity. No land will be granted for increased capacity for already existing projects in these industries.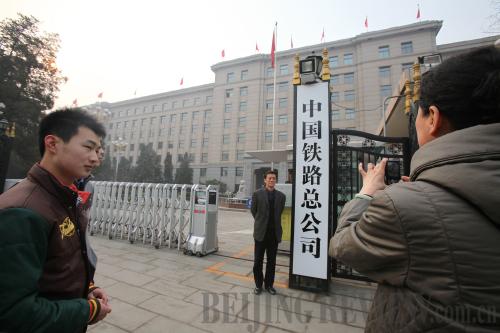 A man poses for a photo alongside the new China Railway Corp. sign on March 17, the day it was installed (XINHUA)
MOR Dismantled
Railway reform took another big step this year when government functions were separated from enterprises operations in the sector.
The Ministry of Railways (MOR) had long been at the center of controversy for being both a policymaker and a service provider and been criticized for its bureaucracy, low efficiency and poor services.
In March, the MOR was broken up into administrative and commercial arms—namely the National Railway Administration under the Ministry of Transport and the China Railway Corp.
More changes are still to come. On August 19, the State Council published detailed plans to innovate railway funding and speed up construction. Private investment is to be encouraged.