The world's two largest economies, China and the United States, mark the 35th anniversary of their diplomatic relations on January 1. In the years since 1979 many questions have been asked about this crucial relationship, most notably what are the obstacles and in what direction is the relationship developing? Selected Chinese scholars and diplomats share their thoughts on these and other questions. Excerpts follow: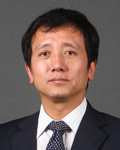 Mei Xinyu, a researcher with the Chinese Academy of International Trade and Economic Cooperation
The late Chinese leader Mao Zedong is often quoted as saying relations between countries should not only look good, but also be mutually beneficial. For the complicated Sino-U.S. relationship, the economic and trade bonds between the two is as Mao said. The abundant accomplishments achieved during the 24th China-U.S. Joint Commission on Commerce and Trade held in Beijing in December 2013 are proof that there are more common interests between the two despite differences.
The common economic and trade interests between China and the United States are evident as they have already become one another's second largest trading partner. Chinese statistics show that bilateral trade volume reached $484.7 billion in 2012, more than 200 times that of 1979, when the two countries established their official relationship. Though Sino-U.S. trade conflicts always attract attention, the conflicts show that the trade relationship between the two countries has achieved great developments. They also reflect that the existing management system has failed to adapt to further development of the bilateral trade relationship. Thus, negotiations are needed to remove barriers.
There are common interests between China and the United States, but that doesn't mean the interests of the two countries are completely in accordance. Chinese President Xi Jinping has said, "The Pacific Ocean is broad enough for the two powers of China and the United States." The two countries should both have the confidence and capacity to manage their differences and build, maintain and develop a constructive, competitive and negotiable relationship. Whether for these two countries, or the world at large, cold war is better than real war, trade war is better than cold war and negotiations are better than trade war.
In many cases, differences between the two countries are caused by some political factions in the United States imposing their views on China, but these views are often untenable and the common interests between China and the United States are extensive. I believe, with the passage of time, both sides will find more and more common ground.