Demonstrators hold placards supporting former U.S. intelligence analyst Edward Snowden during a protest against government surveillance on October 26 in Washington, D.C. (XINHUA/AFP)
Widespread Surveillance Controversy
A series of media reports were published in June based on leaks from former U.S. National Security Agency contractor Edward Snowden, revealing highly classified surveillance activities undertaken by the agency including monitoring domestic citizens and foreign leaders.
The disclosure caused international uproar, with leaders in Europe and Latin America demanding an account from the United States, as well as creating a crisis of confidence for the U.S. Government. Meanwhile, Snowden obtained a year-long residential permit in Russia as a refugee, sparking a diplomatic row between the United States and Russia.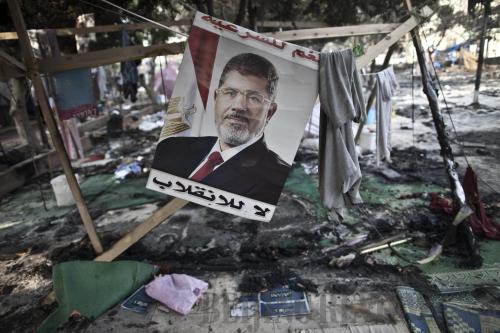 A picture of Egypt's ousted President Mohamed Morsi is seen hanging amidst debris in Cairo on August 15, following a crackdown on his supporters' protest camps the previous day (XINHUA/AFP)
Turmoil Continues in the Middle East
Egypt's armed forces removed Mohamed Morsi from his presidential post in July. In the aftermath, his Muslim Brotherhood supporters staged large-scale sit-in protests, which led to clashes with security forces. Though protests were quelled and the Muslim Brotherhood was dissolved as a non-governmental organization, Egypt's turbulent political situation is proving hard to tame, reflecting the political and social division in the country since Hosni Mubarak's reign ended in 2011.
Reports of alleged use of chemical weapons in Syria's raging civil war in August prompted the United States to threaten to use force to destroy Syria's chemical weapons and help rebels topple President Bashar al-Assad's regime. A potential military strike was averted, however, when Syria agreed to dismantle its chemical arsenal and facilities by mid-2014 under a UN Security Council resolution.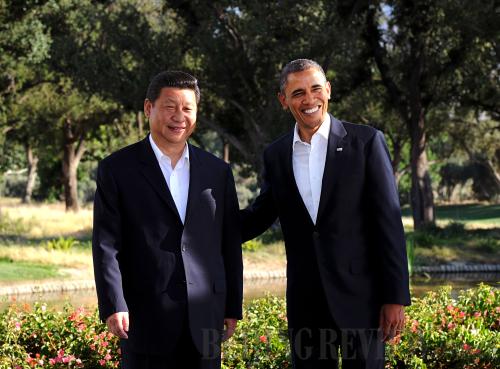 Chinese President Xi Jinping and U.S. President Barack Obama at the Annenberg Retreat, California, on June 7 (RAO AIMIN)
New Blueprint for Sino-U.S. Relations
Since both countries completed their latest leadership change, Chinese President Xi Jinping and U.S. President Barrack Obama held their first summit at the Annenberg Retreat, California, on June 7-8. During the summit, the leaders reached a consensus on an array of issues and mapped out a blueprint for China-U.S. ties. The two world powers agreed to construct a new state-to-state cooperation model based on mutual benefit and respect, so as to meet various global challenges together. These achievements signal the opening of a new chapter in trans-Pacific cooperation.