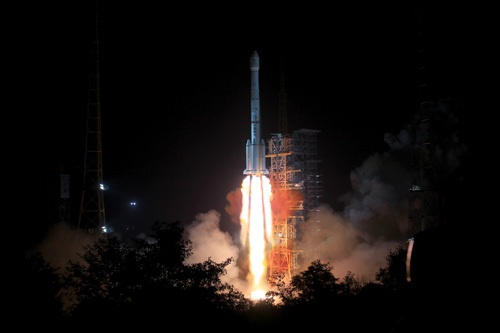 BLASTING OFF: Chang'e-3 being launched in an enhanced Long March 3B rocket at the Xichang Satellite Launch Center in Sichuan Province on December 2 (LI GANG)
After 10 years of space exploration efforts, China has finally launched its first mission to land a spacecraft on the surface of an extraterrestrial body.
On December 2, China's third lunar probe, Chang'e-3, was launched into space on an enhanced Long March 3B rocket at the Xichang Satellite Launch Center in southwestern Sichuan Province. Chang'e-3 is expected to soft land on the moon in mid-December, making it the first mission to do so since the former Soviet Union's Luna 24 mission in 1976.
Chang'e-3 comprises a lander and a six-wheeled lunar rover equipped with four cameras and two mechanical legs that allow it to dig up soil samples. The rover, named Yutu, meaning Jade Rabbit, will survey the moon's geological structure and surface substances during its three-month lifespan, while looking for natural resources. According to Chinese folklore, the goddess Chang'e lives on the moon with only a white rabbit for companion.
"If successful, the Chang'e-3 mission will give China the ability to explore the surface of an extraterrestrial body," said Sun Huixian, deputy engineer in chief of the second phase of China's lunar program.
Milestone mission
"This will be a breakthrough for China in conducting observation and survey of the moon's surface," said Wu Weiren, chief designer of China's lunar program. "More than 80 percent of technologies and products used during the mission are newly developed."
After entering lunar orbit, Chang'e-3 will go through six stages of deceleration to descend from 15 km above to the lunar surface, Xinhua News Agency reported on November 29.
The soft landing processes used by U.S. and Soviet unmanned spacecraft in the 1970s were unable to hover or avoid obstacles. Chang'e-3 can accurately survey its landing site and identify the safest spots on which to land, according to Sun.
In order to land quickly, the probe is equipped with high-precision, fast-response sensors that analyze its motion and surroundings. The variable thrust engine designed and made domestically by Chinese scientists and used for Chang'e-3 can generate up to 7,500 newtons of thrust.
During the Chang'-3 mission, a telescope will be set up on the moon, for the first time in human history, to observe the inner region of the Earth's magnetosphere—the area where the planet's magnetic field is still strong enough to affect charged particles in space. The lunar rover will also survey the moon surface using radar.
Chang'e-3 is part of the second phase of China's lunar program, which includes orbiting, landing and returning to Earth.
In phase three, China's unmanned probe will return to Earth with lunar soil and rock samples. The timetable for this phase has not been specified, but earlier reports suggested that it could be concluded as early as 2020.
In June 2011, the Chinese Academy of Sciences released a development roadmap for the country's scientific sector. It estimated that China will be able to accomplish a manned mission to the moon and set up a lunar base around 2030, with the base to be able to launch manned spacecraft from approximately 2050.
Achievements
The Chinese Government approved the lunar program in January 2004, three months after China sent its first astronaut into space, becoming the third country after Russia and the United States capable of launching an independent manned space travel mission.
Scientists said that China's space program has started later than other countries', so its own exploration missions must not follow the beaten path, but forge ahead with a new strategy and long-term design.
Chang'e-3 follows the success of the Chang'e-1 and Chang'e-2 probes, launched on October 24, 2007 and October 1, 2010, respectively.