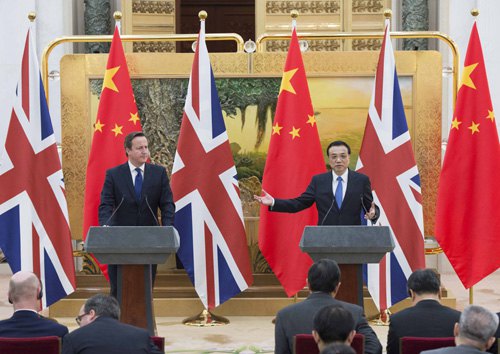 JOINT SESSION: Chinese Premier Li Keqiang and British Prime Minister David Cameron attend a joint press conference in Beijing, capital of China, on December 2 (WANG YE)
David Cameron finally made it on his China trip after a fairly long delay caused by his meeting with the Dalai Lama one and a half years ago, with a renewed emphasis on the importance of mutual respect in bilateral relations.
Observers claimed that the postponement should not be seen in a negative light, as it has allowed British politicians to reconsider the importance of China-Britain relations; additionally, the already delayed visit became a crucial opportunity to bring China-Britain relations back on the right track.
"There is no unsolvable conflict of interest between China and Britain," said Ma Zhengang, former Chinese Ambassador to Britain. Only by mutually respecting the major concerns of each other could the two countries develop a sound bilateral relationship, he added.
He also claimed the latest Beijing trip by Cameron has restarted an annual China-Britain premier meetings, marking a thaw in Sino-UK relations.
Turning the page
Heading an unprecedentedly large delegation consisting of several cabinet members as well as about 150 representatives from business and trade sectors, Cameron's Beijing trip was arguably one of Britain's most important diplomatic events this year.
Cameron has apparently done his homework ahead of his visit, having opened an account on Sina Weibo, China's Twitter-like microblog website, visited a Chinese artwork exhibition in London to learn about Chinese culture, given an interview with Chinese media as well as publishing an article in a Chinese news magazine. These efforts reflect the importance he attached to the trip.
British media remarked that Number 10 is billing the trip as an opportunity to "turn the page" after the row that followed Cameron's meeting with the Dalai Lama and to reopen top-level ties with the world's second largest economy.
However, former ambassador Ma noted the erosion of mutual trust and the damage to bilateral relations caused by the Cold War mentality of British society, which he said views China through "tinted spectacles." "Some British are too critical of China's social system," said Ma.
Cui Hongjian, director of the Department for European Studies with the China Institute of International Studies (CIIS), said mutual trust should be improved to eliminate the barricades between the two sides. "Without mutual political trust, economic relations and cooperation in other fields will be affected. It is not conducive to a healthy and comprehensive Sino-UK relationship," Cui said.
The British side should make sure that it will not make opportunistic mistakes when involving itself in issues concerning China's core interests in the future, said Cui.
Before his arrival in Beijing, Cameron made a pledge to lead a "dialogue of mutual respect and understanding."
The trip appeared to have fulfilled his pledge. In addition to meeting with Chinese leaders, Cameron met with local businesspeople to advance cooperation and gave a lecture at a university to make a good impression with Chinese students within the three-day visit.
At a news conference with Premier Li Keqiang after talks at the Great Hall of the People, the UK prime minister said, "I see China's rise as an opportunity not just for the people of this country but for Britain and the world."