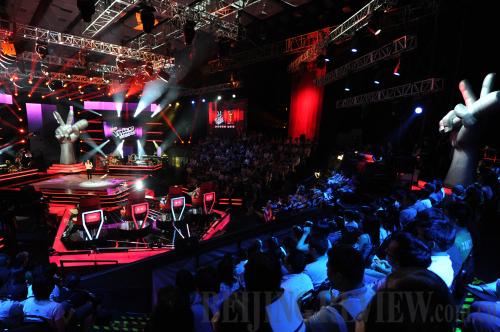 A scene of the Voice of China (XINHUA)
The Voice of China, Chinese Idol and Happy Boys are just a few of the many talent shows on television today. However, this may soon change with the announcement of restrictive regulations by the State Administration of Press, Publication, Radio, Film and Television (SAPPRFT) on July 24. According to the SAPPRFT, there are too many such talent shows on television, which are similar in concept as well as content. the SAPPRFT announced that it would implement regulations on the nation's singing competition shows to "avoid monotony among programs, provide more options to the audience and satisfy diverse demands." Moreover, it points out that all television programs must "avoid extravagance, luxury, sensationalism and flashy programing."
From July 24 on, no satellite channels are allowed to produce new singing competition shows, while programs that have finished filming, but have not yet been launched, are to be pulled until the summer vacation period is over and the schedule of shows already airing adjusted to avoid overlap.
The SAPPRF's control over singing contest shows has brought the topic into the public limelight across the country. The following are excerpts of opinions:
Supporters
Lu Di (Beijing Morning Post): In recent years, singing contest programs have produced some excellent shows and uncovered many talented singers. It provides opportunities for such once unknown singers, which is a good practice for Chinese TV. However, we must realize that due to the excessive production of such programs that are quite similar to each other, there is a huge waste of resources and a waste of audience time.
Hu Zhifeng (Beijing Morning Post): The SAPPRF's control over extensive singing contest programs fully reveals efforts to tap into the positive energy of culture. It is a restriction and not a "ban." Thus, it is a rather flexible measure based on certain rules. It will help change current monotony among television programs, as well as the flashy atmosphere of extravagance, luxury and sensationalism, so that the overall social and cultural environment will develop in a more healthy and rational direction.
Yin Hong (Beijing Morning Post): Fierce competition between satellite channels for audience ratings has led to a large number of copycat programs. The SAPPRF's restrictive measures seem quite timely and proper, as they will help adjust the timing and amount of these singing shows. Those who are not so interested in such programs will have more options. In this way, good TV shows will be preserved while unpopular ones will gradually be eliminated.
Xie Chenxun (Beijing Morning Post): I don't think the mass popularity of singing contest shows is a bad thing, but the precondition is that there must be enough originality, creativity and differences between such programs.
Since the overwhelming success of Hunan TV Station's talent show Super Girl in 2005, talent shows have hit major TV stations across China. The artistic presentation of these contests, with their unpredictability, has attracted a large number of viewers. However, at the same time, the similarity of such shows makes TV quite inanimate. Program producers must realize that not everyone is interested in such programs, with some needing a richer choice.
Although no such programs have been labeled as "piracy," it's obvious that most draw from similar programs broadcast abroad, with little originality and creativity. In order to win more viewers, some TV channels have directly purchased the copyright of popular overseas reality talent shows.
Copying successful products is not a problem existing in the entertainment market alone. It might have something to do with a current lack of creativity in current Chinese society. Vitality of the cultural industry comes from originality and creativity. To always follow and copy others will turn the Chinese entertainment market into another "workshop" of simple and low value-added products.