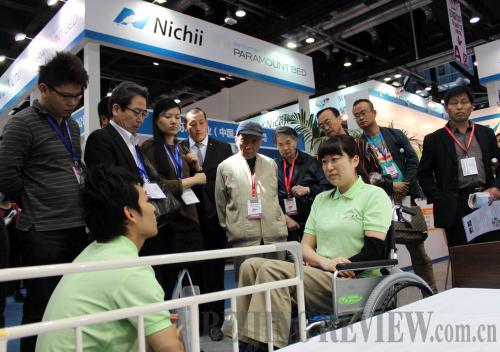 ENJOY YOUR RETIREMENT: Staff members from theJapanese medical services company Nichii Gakkan demonstrate use of an electric wheelchair at the Second China International Senior Service Expo held in Beijing in April (CFP)
China and the United States cooperate—and butt heads—on numerous fronts, be it in politics, business or security, with the two sides forging closer ties than ever before. But there's one other sphere than has flown under the radar: care of the elderly.
The first Sino-U.S. joint-venture senior residence called Senior Living L'Amore-Kaijian, opened in Beijing on August 21. This senior living facility is jointly developed and managed by Sino-Ocean Land Holdings Ltd. and Columbia Pacific Management, Inc. as well as Seattle-based assisted living and memory care provider Emeritus Corp.
According to figures from China's Ministry of Civil Affairs (MCA), by the end of 2012 China's population above 60 had reached 194 million, accounting for 14.3 percent of the country's total population. The figure is expected to be over 200 million in 2013. With its population quickly graying, there's a real fear that China—still a developing country—will get old before it gets rich, with a senior care industry ill-equipped to manage this significant change in demographics.
Zhang Chewei, Deputy Director of the Institute of Population and Labor Economics of the Chinese Academy of Social Sciences (CASS), said under such a background, China's senior care industry needs both private and foreign capital to grow.
Dang Junwu, Deputy Director of the China Research Center on Aging, said China's rapidly graying population is a serious concern given that the infrastructure to care for the elderly is still in its infancy. Government alone cannot be relied on to nurture the industry's growth, said Dang.
Foreign capital, bring it
Five days before Senior Living L'Amore-Kaijian opened its doors, an executive meeting of the State Council decided to expand its senior care offerings. Government-run elderly care institutions will mainly serve those without income or little past participation in the labor market at no cost or for a minimal fee. For the rest, the government will encourage domestic investors to establish elderly care institutions and support overseas investors in senior care, read a statement issued after the meeting.
"The senior care industry must involve the market so that all elderly can enjoy sound services," Dang said, adding that the government cannot be relied on to provide a roof over the heads of all seniors.
He said encouraging private and foreign capital to enter the industry can both meet the diversified demands of the elderly and invigorate the market and make up for the government's insufficiency.
"China has the world's biggest population above 60. It is necessary to fully tap the potential of various types of investors," Dang said.
In recent years many local governments issued policies directing foreign investors to the senior care industry, and some overseas senior care companies have begun the process of setting up shops in the world's most populous country.