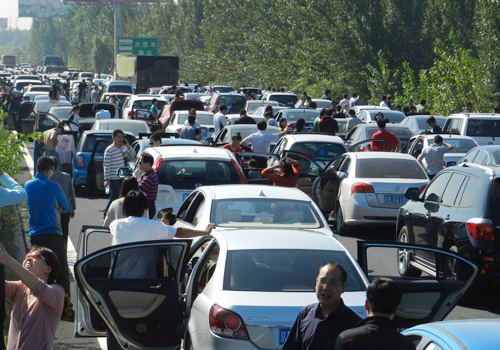 PAYING A PRICE: Drivers and passengers are jammed on the Beijing-Shanghai Highway on September 30, when travelers enjoyed a toll-free highway (WANG ZHEN)
Dubbed the "Golden Week," the National Day holiday (normally October 1-7) is a traditional peak travel period for many Chinese who hit the road. But this year's holiday was different from years past: most motorists across the country were exempt from paying toll fees.
The Chinese Government in August decided to lift highway tolls on roads and bridges nationwide for passenger vehicles with seven seats or less during four major Chinese holidays—Spring Festival, Tomb Sweeping Day, May Day and National Day. For the last National Day holiday, it came into effect on September 30 and ran until October 7.
Driven by the new policy, the number of travelers on highways totaled 85 million by 4 p.m. on September 30, the first day of the holiday, up 13.3 percent year on year, said the Ministry of Transport.
With more people than usual on the road, China's major expressways saw congestion beginning as early as 5 a.m. on September 30.
On some roads, car accidents caused congestion and slowed traffic to a speed of less than 20 km per hour.
As of 3 p.m. on September 30, congestion was reported on 24 expressways in 16 provinces, due to accidents and a sharp increase of cars on road.
"Congestion after the toll-free policy is within our expectation," added Xu Yunfei, an expert in transportation in Shandong Province. "We should stick to this policy and keep on implementing it."
But it would strike a blow to Chinese highway companies. Industry insiders predict a 2-percent drop in their market performance.
China's highway construction has been in a rapid-expansion phase since 1988, when the first highway was completed in Shanghai. The Chinese Government adopted the principle of "building roads with bank loans and paying off debt with toll fees," and the standard has been in effect until today.
By the end of 2011, the total length of highway had amounted to 85,000 km. China's roads—and highways in particular—have withstood over 75 percent of the country's freight volume and over 90 percent of passenger volume. Toll fees have become a major source of revenue for highway companies and local governments.
Most people would assume that high-profit sectors in China include banking, alcohol and real estate, but financial reports of listed highway companies reveal that this industry is not necessarily struggling.
In 2011, the total revenue of all 19 listed highway companies was 41.48 billion yuan ($6.57 billion), a 22-percent year-on-year increase and the gross profit margin was 53.53 percent, according to hexun.com, China's biggest financial news Web portal. The gross profit margin of 19 listed highway companies was as high as 61.76 percent in the first half of 2012, according to Wind Information Co. Ltd. (Wind Info), a Shanghai-based leading service provider of financial data, information and software.
Toll fees account for over 90 percent of the income of listed highway companies, according to their financial reports.
Although profits are high, the return on equity (ROE) for the highway industry is only 10.43 percent, lower than other sectors. Some analysts argue that the ROE is lower because of massive previous investments, and investors should be aware of this fact.
"If you analyze the financial statements of highway companies carefully, you will find that the ROE is not as high as the gross profit margin may indicate," said Guo Shenghui, Securities Representative of Hubei Chutian Expressway.
Moreover, despite the exorbitant profits, most highway companies are heavily in debt due to their ongoing expansion plans.