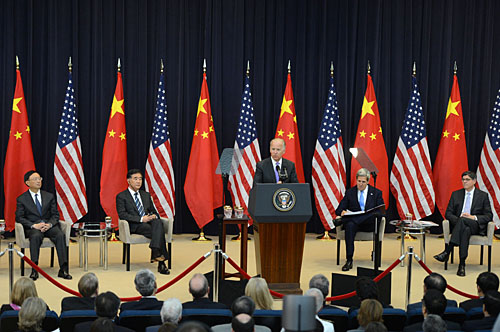 The fifth round of the China-U.S. Strategic and Economic Dialogue (S&ED) kicks off in Washington, D.C., on July 10 (XINHUA)
China and the United States agreed to five new initiatives for collaboration on addressing climate change in Washington, D.C., on July 10, the first day of the fifth round of the China-U.S. Strategic and Economic Dialogue (S&ED).
Xie Zhenhua, deputy head of China's economic planner National Development and Reform Commission, announced the agreement during a news briefing after the opening session of the two-day dialogue. He said the goal of these initiatives is to reduce greenhouse gas emissions and air pollution by tackling the largest sources of emissions in both countries.
The five initiatives include: Reducing emissions from heavy-duty and other vehicles; increasing carbon capture, utilization, and storage; increasing energy efficiency in buildings, industry, and transport; improving greenhouse gas data collection and management; and finally, promoting smart power grids.
These initiatives were developed by the U.S.-China Working Group on Climate Change and presented in a report agreed to by leaders' special representatives at this round of dialogue.
The working group was established after Secretary of State John Kerry's first trip to China in April and is intended to spur large-scale, cooperative efforts to address climate challenges, including deepening and expanding work already underway. The working group's report was prepared mindful of the overwhelming scientific consensus about anthropogenic climate change and its worsening impacts, as well as the urgent need to intensify global efforts to combat climate change. Ambitious domestic and cooperative action by China and the United States is more critical than ever.
"Bilateral efforts between the two countries are essential – and this collaboration can inject additional vigor in tackling climate change around the world," said Jennifer Morgan, Director of the Climate and Energy Program in the World Resources Institute.
Recognizing the importance of working through the United Nations Framework Convention on Climate Change (UNFCCC), China and the United States are committed to enhancing their policy dialogue on all aspects of the future agreement.
According to the website of the State Department, the working group will strive to implement the agreement on hydrofluorocarbons  reached by President Obama and President Xi at their meeting last month in California.
"The cooperation of addressing climate change will highlight the relationships between China and the United States in the future," Xie said.
Morgan said the leadership from the two countries has put climate change at the top of the international agenda. "These actions can help build trust and enhance cooperation between these two major countries," she said.
The fifth round of the China-U.S. Strategic and Economic Dialogue  started on July 10. Acting as special representatives of Chinese President Xi Jinping, Chinese Vice Premier Wang Yang and State Councilor Yang Jiechi co-chaired the dialogue with U.S. President Barack Obama 's special representatives Secretary of State John Kerry and Treasury Secretary Jacob Lew.
(Reporting from Washington, D.C.)