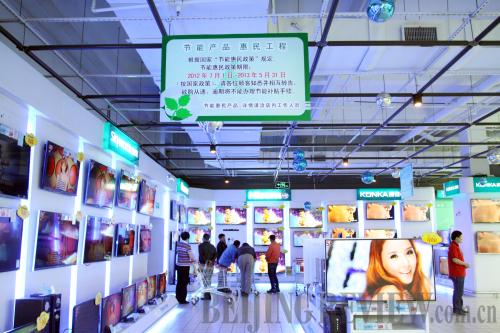 ONE LAST LOOK: Consumers inspect flatpanel televisions in a supermarket in Jiashan County, east China's Zhejiang Province, on May 30, the last day of the one-year subsidy program for energy-efficient appliances (CFP)
Li Haiyan is a saleslady in the TV section of a Dazhong Electronics store in Beijing. At 3 p.m. on June 5, Li was napping on the shop's sofa instead of servicing customers. There was a simple explanation for this: Customers were few and far between, and she hadn't sold a single TV set in three days.
Sluggish sales in June were in sharp contrast with sales from the previous month, when Li sold over 200 TV sets.
"In May, there were lots of customers every day," Li said. "I was busy every minute. Although exhausted, I was happy. Now, I'm lucky to sell one set all day."
Life for the television industry dramatically changed on June 1 when the one-year subsidy program for energy-efficient home appliances expired and, as a result, prices were suddenly hiked. A flat-panel TV that was sold at 9,799 yuan ($1,598) before June 1 is now being sold at 10,199 yuan ($1,663)—without a government subsidy of 400 yuan ($65.24).
"If customers don't need those products badly, they won't be willing to pay an additional several hundred yuan. They'd rather wait for the price to drop," said Li.
Designed to drive domestic consumption and cut carbon emissions, the subsidy program for energy-efficient home appliances was rolled out by the Chinese Government on June 1, 2012. The program covers five categories of first-grade energy-saving appliances, including air conditioners, flat-panel TVs, refrigerators, washing machines and water heaters. The program offered subsidies ranging from 70 to 400 yuan ($11.4 to $65.2).
Xu Dongsheng, Secretary General of the China Household Electrical Appliances Association, said that the end of the program means the home appliance market will be forced to readjust as the market was over-tapped in the past year. How to induce consumers to spend on home appliances without government support has become a challenge for many industry players.
Goals achieved
In a bid to water down the impact from the 2008 financial crisis, the Chinese Government pinned its hopes on expanding domestic consumption as a driving force for economic recovery, and it saw household appliances and a means to do so.
In 2008, the Central Government launched a campaign called "household appliances go rural," in which rural residents received a 13-percent subsidy toward the price of color TVs, refrigerators, mobile phones and washing machines. The program ended on January 31, 2013.
In May 2009, the State Council offered subsidies to trade-in home appliances, including TVs, refrigerators, washing machines, air conditioners and computers. The subsidy was 10 percent of the retail price of new appliances. That program ended on December 31, 2011.
The subsidy program for energy-efficient home items is the third of its kind from the Central Government. According to the Ministry of Finance, the program accomplished its goals. During the year, a total of 12.2 billion yuan ($2 billion) was allocated to subsidize 65 million-plus energy-efficient home items. Chinese consumers spent 250 billion yuan ($40.78 billion).
Because of the program, Dazhong Electronics' sales revenue surged 40 percent year on year, much higher than the company expected. Xu said that the program not only boosted sales, but also played a vital role in helping the home appliance sector shift from producing low-end to high-end goods.
"The market share of energy-efficient air conditioners and washing machines has increased markedly. Meanwhile, the upstream parts industry has transformed into a more energy-efficient one. The financial subsidy reduced the cost of producing energy-efficient products for companies and reduced the price for consumers to buy them," said Xu.