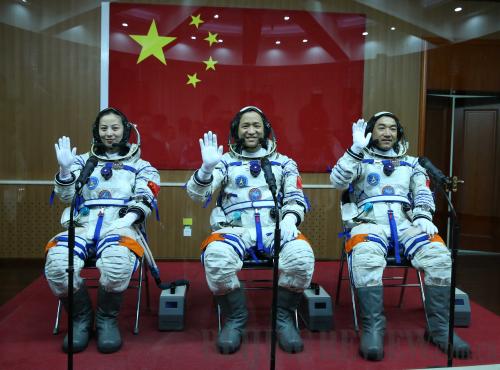 SPACE TRAVELERS: Shenzhou-10 astronauts (left to right) Wang Yaping, Nie Haisheng and Zhang Xiaoguang, don their launch suits and wave at a send-off ceremony on June 11 (PANG XINGLEI)
At 1:18 p.m. on June 13, China's fifth manned spacecraft, Shenzhou-10, completed automatic docking procedures with the Tiangong-1 orbiting laboratory.
After the air pressure inside the vessels equalized about three hours later, commander Nie Haisheng and astronauts Zhang Xiaoguang and Wang Yaping entered the lab module, which has been in orbit for about 620 days.
Shenzhou-10, atop a Long March-2F carrier rocket, blasted off from the Jiuquan Satellite Launch Center in northwest China's Gansu Province at 5:38 p.m. on June 11.
"The mission's members carry the dreams of the Chinese people to explore space and represent their lofty aspirations," said President Xi Jinping at the send-off. Xi had just returned from his visit to the United States.
Later in its planned 15-day journey, the crew will also manually dock the spacecraft to the laboratory module.
A new mission
This year marks the 10th anniversary of China's first manned space flight. Since 2003, 10 Chinese astronauts have been sent into space.
Compared with the previous nine Shenzhou spaceships, Shenzhou-10 is no longer experimental but is now considered an applicable shuttle system for transporting astronauts and supplies to orbiting modules.
"Technically speaking, Shenzhou-10 has inherited the essence of Shenzhou-9. The mission marks a step forward from the experimental stage to application. That also means the space to earth transportation system is entering its final stage," said Bao Weimin, Director of the China Aerospace Science and Technology Corporation.
"It is like developing a new type of car. You have to try it on roads of varying conditions. Now trials are over and the car can be put into formal operation," said Zhou Jianping, chief engineer of China's manned space program.
On the other hand, the Long March-2F carrier rocket is technically the same as the one used with Shenzhou-9.
"No alteration means that China's rocket technology is becoming mature," said Jing Muchun, chief designer of the carrier rocket.
This Shenzhou-10 mission aims to further test technologies designed for docking and supporting astronauts' stay in space, as well as to use new technologies related to the construction of a space station, said Wu Ping, a spokeswoman for China's manned space program, at a June 10 press conference.
"So far we only conducted three automatic docking tests and a manual one. More tests are needed. We also need to further prove that our astronauts are fit for a longer stay in space and the orbiters are able to support their life and work," Wu said.
Food for astronauts, as well as waste processing facilities, will be improved, she added.
The mission will also involve maneuvering the spacecraft around the lab module to practice docking from different positions around Tiangong-1.
Zhang Bonan, chief designer of Shenzhou-10, said, "We aim to find out, solve and test certain problems that arise from constructing a space station. That's one of our main focuses at the moment. In this sense, Shenzhou-10 is a transitional mission."
There are risks that the conditions of some components on Tiangong-1 might not be at their best since the module is near the end of its service and has gone through four docking tests, Wu said.
Launched in September 2011, Tiangong-1 has about three months left before the designated end of its service.