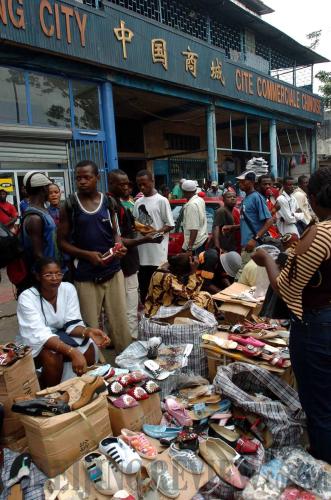 POPULAR GOODS: Cameroonian shoppers select Chinese products at a market in Douala (XINHUA)
Zhang Hongmei cannot control her excitement at the thought of the company she works for increasing their footprint in Africa. As sales manager for Fuzhou Jump Smart Cards Co. Ltd., she told Beijing Review at the Second China (Beijing) International Fair for Trade in Services (CIFTS) that "Chinese companies, including us, are favored by African countries."
Fuzhou Jump Smart Cards, based in the city of Fuzhou, southeast China's Fujian Province, has a business presence in Ethiopia and Kenya and supplies smart cards for the service sectors of local telecommunication and financing. As one of the 2,000 Chinese enterprises doing business in Africa, the company witnessed the unprecedented opportunities brought by the vast market on the continent. On the other side of the coin lie the challenges of operating in a foreign market, which include poor infrastructure and an often unstable business environment in Africa.
Promising market
With the strengthening of Sino-African political relations, especially the deepening of bilateral trade cooperation, more Chinese companies are including Africa in their plans, with investment sectors like infrastructure, agriculture, tourism, airline transportation and financing. Taking advantage of the platform that the second CIFTS offered when it was held in Beijing from May 28 to June 1, African countries are on hand to promote business opportunities and attract more investments from China.
Africa's vast but underdeveloped market overshadowed the scale of China's current investment on the continent. In the infrastructure sector alone, Africa will face a financial shortfall of about $360 billion before 2040, according to statistics released by African Development Bank in 2012. "There are many opportunities for Chinese investing in Africa, and we value the cooperation with Chinese enterprises and welcome more and more Chinese to conduct businesses in our country," said Frederick M. Shava, Ambassador of Zimbabwe to China, at the China-Africa Investment Forum held during CIFTS.
To facilitate Chinese registering companies in Africa, many African countries provided a one-stop shopping for Chinese investors to learn about local taxation laws and investment regulations. They also tried to minimize restrictions on foreign investment. "We encourage Chinese to invest in Zimbabwe. For example in tourism, Chinese are allowed to enter the service sector relating to tourism like opening hotels or restaurants if they jointly work with a local partner and hire a certain number of local employees," Mavis Sibanda, Minister Counselor from the Embassy of Zimbabwe to China, told Beijing Review.
In the eyes of Cheng Tao, former Chinese Ambassador to Morocco, one reason why Chinese enterprises should grab the business opportunities in Africa was the potential of a large consumer market on the continent. Africa has a population of 1 billion and its young population, aged from 15 to 20, has reached the 200 million mark and will double by 2045. "The large population does not only mean a huge consumer market, it is also exacerbating the employment pressure in Africa," said Cheng, noting that to get the large number of young people employed, African countries had to expand production, thus creating more investment opportunities.
The African Union was also accelerating regional integration and improving the investment environment to absorb more foreign investments. At the 18th African Union Summit held in the Ethiopian capital of Addis Ababa in January 2012, the Program for Infrastructure Development in Africa was adopted to break the development bottleneck by ratcheting up investment in establishing infrastructure with the joint efforts of the whole continent.