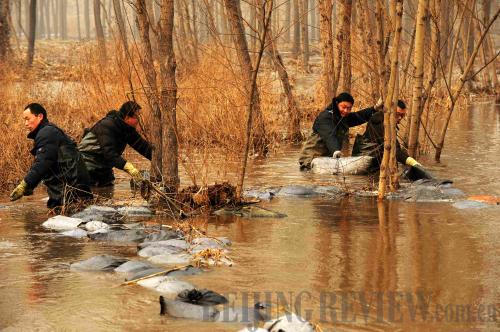 DIFFICULT CLEANUP: On January 8, workers throw bags of activated charcoal into a river flowing into the Yuecheng Reservoir in Handan City, Hebei Province, to absorb phenylamine spilled by a chemical plant in upstream Shanxi Province (ZHU XUDONG)
East China's Anhui Province received 4 million yuan ($635,000) recently as compensation for river pollution found to have originated from neighboring Henan Province more than three months ago. In mid-January, polluted water spread from the Huiji River in Henan to the city of Bozhou in Anhui, resulting in a sudden spike of ammonia levels downstream that eventually poisoned fisheries.
"Trans-regional water pollution is a complicated issue. More efforts need to be made to deal with the pollution and address the complaints of those affected," said Su Mingsheng, deputy head of Bozhou's Environmental Protection Bureau.
Trans-regional water pollution cases have been frequently reported across the country. Nearly 9 tons of carcinogenic phenylamine leaked from a chemical plant in Shanxi Province on December 31, 2012. The contamination affected drinking water supplies of the Yuecheng Reservoir in downstream Handan, Hebei Province. The spillover also polluted a river in neighboring Henan.
The basins of China's largest rivers traverse multiple administrative regions, sometimes making it difficult to pinpoint sources of pollution. This highlights China's urgent need for an effective trans-regional environmental compensation mechanism.
In 2007, the State Environmental Protection Administration, now the Ministry of Environmental Protection, issued a document on conducting pilot programs for ecological compensation, which identified several basic principles, chiefly: regions profiting from development projects that pollute the environment should compensate regions suffering resulting environmental degradation.
China resolved its first trans-provincial ecological compensation case on December 30, 2011, when northwestern Shaanxi Province compensated Tianshui and Dingxi cities in neighboring Gansu Province 3 million yuan ($484,000 million) each for their efforts to protect the Weihe River. The Weihe originates in Dingxi and flows westward into the Yellow River in Tongguan County, Shaanxi. The compensation was delivered to the governments of Tianshui and Dingxi on the condition that the money would be used on projects to eliminate pollution, protect tributaries to the Weihe and enhance water-quality monitoring.
Another example of cross-region ecological compensation took place in Sichuan Province after a catastrophic earthquake severely damaged industrial facilities under construction in Aba Tibetan-Qiang Autonomous Prefecture on May 12, 2008. Aba is located at the upper reaches of the Minjiang River, a tributary of the Yangtze River, China's largest waterway. Once completed these plants would pose a hazard to the safety of drinking water in Chengdu, the provincial capital located at the Minjiang's lower reaches.
During the post-earthquake reconstruction from 2008, all of Aba's industrial facilities were relocated to a new industrial park in Jintang County under the jurisdiction of Chengdu. As a joint development project, the local government paid for 60 percent of the construction expenses while Aba shouldered the remaining 40 percent.
Slow progress
However, local protectionism and uncertainties regarding environmental and economic benefits have inhibited the creation of a state-level trans-regional compensation scheme.
In April 2010, a leadership panel and an expert advisory committee were set up to draft a national ecological compensation regulation. However, no progress on their work has been reported since then.