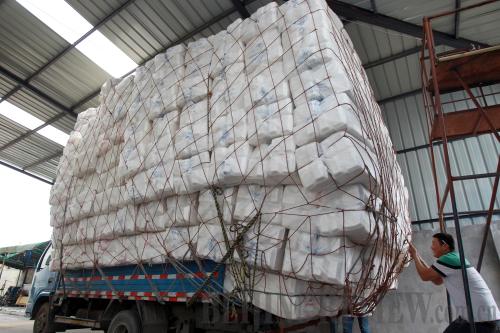 BACK ON THE MARKET: Disposable polystyrene tableware produced in Shanghai is ready for delivery on May 4 (LIU JUNXI)
As an office worker on Jinbao Street, one of the most bustling business areas in Beijing, Su Wei is accustomed to bringing his lunches to the office in polystyrene boxes.
"My colleagues and I all eat food from such boxes," Su said, unaware that there had ever been a ban on polystyrene bowls and takeout boxes.
"I didn't realize there was a ban because many restaurants in Beijing are still using polystyrene boxes and have been doing so for years," Su said.
However, after being in force for more than 14 years, the ban was lifted on May 1, raising concerns that the move could result in food safety and environmental pollution problems.
The State Economic and Trade Commission decreed in January 1999 that polystyrene tableware would be phased out, with a formal prohibition on production beginning in 2001. Once the country's top economic policymaking body, the commission was dismantled and its responsibilities were assumed by the National Development and Reform Commission (NDRC) in 2003.
The ban was meant to curb a problem of "white pollution," a term used to describe the ubiquity of the discarded disposable containers. The railway sector, constituting China's main public transport facilities, banned polystyrene tableware and began using biodegradable tableware in 1995.
In 2005 and 2011, the NDRC again put polystyrene tableware under its list of banned products on the Industrial Restructuring Catalog.
However, on February 16, polystyrene tableware was removed from the NDRC's updated list of banned products. Dining from polystyrene containers is legal again, but has anyone taken notice?
The rationale
The move taken by the NDRC raised a lot of controversy among insiders and the public. Many warn it will bring horrible results to the country's environment and public health.
Dong Jinshi, Secretary General of the International Food Packaging Association, said that the NDRC's move would invite even more production from formerly illegal manufacturers.
According to Dong, despite the 14-year government ban, polystyrene tableware was still being produced and sold in many places, as it is much cheaper than biodegradable ones.
In China, around 100 million polystyrene boxes are still being produced every year, Dong estimated.
According to Dong's association, about 2 million disposable food containers are used daily in Beijing, and polystyrene packaging accounts for 20 percent. Most of this packaging is used in low-end restaurants such as roadside food stalls.
"The situation might get worse once these products are officially approved by the government," Dong said.
In response to public discontent, the NDRC published a statement on March 20, listing five reasons to justify why the ban was lifted.
The statement said that the NDRC had asked the National Institute of Nutrition and Food Safety, under the Chinese Center for Disease Control and Prevention, to test polystyrene containers and the results showed that they are "compliant with national food wrapping standards."
The commission also said that polystyrene tableware could be recycled to make construction materials, paints and stationery, and that many other countries, including the United States, Japan, and member states of the European Union, have been using these products for years.
Polystyrene tableware is thin and lightweight, so it doesn't require too many resources to produce, according to the commission. Its figures show that each polystyrene box uses only 5 to 6 grams of plastic materials to make, whereas a non-polystyrene box requires 20 to 30 grams. A paper takeout box costs more than 1 yuan ($0.16) to make, while a polystyrene one only costs 0.3 yuan ($0.05).
The NDRC statement said that fewer people are likely to discard the plastic containers on the street or along railway lines because the public now has a better sense of environmental protection than it did 14 years ago.
"Currently, related agencies are working out a system for production license management, a list of criteria for enterprises that are interested in entering the industry, a recycling regime, as well as regulatory measures," the statement added.
Following the statement, some trade organizations, including the China National Light Industry Council, the China Plastics Processing Industry Association and the China Packaging Federation, expressed their support for lifting the ban.