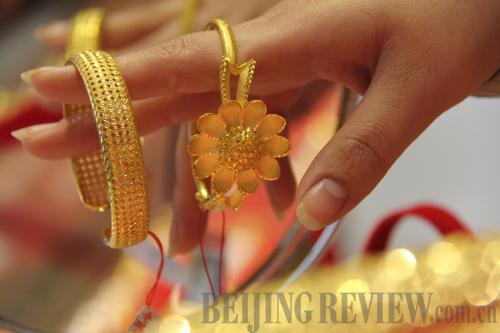 PRECIOUS METAL: A worker shows gold jewelries at a gold store in Tancheng County, Shandong Province, on March 28 (ZHANG CHUNLEI)
The price of gold is now quite close to its production cost, and the optimistic attitude shown by sovereign wealth funds also encourages Chinese people to throw themselves into the "gold rush" dauntlessly. "Gold is a major reserve for economies, and the vigorous growth of emerging economics indicates that the gold supply is still inadequate. In the long run, the price of gold will experience a rise," said Jin Liqun, Supervising Chairman of China Investment Corporation at an investment forum in Beijing.
A comeback
Chow Tai Fook Jewellery, the world's largest jewelry retailer by market value, says some of its stores in China had run out of gold bars, and demand for gold products had never been so dynamic in China since the late 1980s. Volume on the SGE, considered a proxy for the metal's demand in China, surged, setting consecutive records of 30.4 metric tons on April 19 and 43.3 tons on April 22. 
"Within the 10 days following the collapse of the price of gold, Chinese investors alone had swallowed 300 tons of physical gold, accounting for 10 percent of the global annual gold output," said Song Hongbing, a scholar of international finance. "A total of 600 tons of gold is needed to fill up the inventories of the domestic gold industry,"  
As Chinese people emptied the shelves in the mainland, they also went south and swarmed shops in Hong Kong. According to statistics from the Immigration Department of Hong Kong, roughly 121,000 mainland tourists arrived in Hong Kong on April 28, up 24 percent from a year ago. On April 29, the number surged to 162,000. 
Local media reported that many gold stores had queues spilling onto the street, and most of the customers were from the mainland, splashing out hundreds of thousands of yuan to purchase gold bars or jewelry. The Chinese Gold and Silver Exchange Society is likely to run out of gold stock, something not seen in the past five decades. At the same time, Hong Kong has promptly turned to London for physical gold to stock depleted supplies.
As the price of gold began to pick up in the international market, gold products at some big name jewelers have gained some price momentum. Compared with the lowest price registered 10 days ago, gold jewelers Chow Sang Sang and Chow Tai Fook have seen their products rise by 30 yuan per gram.
From April 10, when the dramatic fall began, institutional investors rushed to unload gold, while investors in Asian countries like China and India have forcefully jacked up the price. That has led to a price comeback. Goldman Sachs and the United Bank of Switzerland, which first suggested investors gamble on a further drop in the price of gold, have changed their outlook. Strong demand in Asia pushed New York gold futures up 4.2 percent last week to $1,452.6 per ounce. Meanwhile, the buying spree continues.
One netizen aptly summed up the buying frenzy in China. "No matter how powerful Wall Street analysts are, in the seesaw battle, they have lost to Chinese buyers."