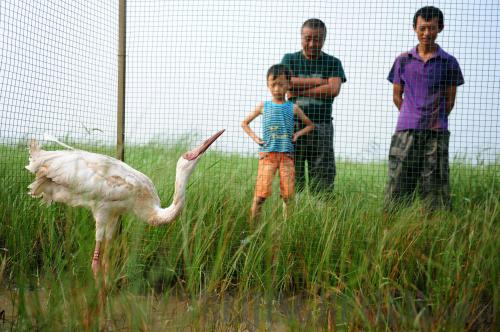 BIRD PROTECTION: A white crane recuperates in a pen near Shenyang, Liaoning Province, on September 2, 2012. Volunteers set up the temporary lakeside home after treating an injury to the crane's right leg caused by a trap set by poachers (PAN YULONG)
Chinese cuisine and medicine traditionally prize certain varieties of wild animals as ingredients, but public concern has mounted over the consequences of widespread consumption of wild animal products and exploitation of animal resources.
During this year's annual session of the National People's Congress (NPC), China's top legislature, in March, 37 deputies responded to suggestions from prominent scholars and animal rights activists by submitting a joint motion on amending the Wild Animal Protection Law enacted in November 1988.
Law amendment
Notwithstanding a 2006 amendment concerning hunting grounds open to foreigners, the law remains substantively unchanged in the past 24 years.
The stated purpose of the law is "to protect and save the species of wild animals that are rare or near extinction, and protect, develop and rationally utilize wild animal resources and maintain ecological balance."
However, the designation of a "wild" animal is left vague, as the law even addresses such activities as domestication and breeding of "species of terrestrial and aquatic wild animals that are rare or near extinction and species of terrestrial wild animals that are beneficial or of important economic or scientific value."
Luo Shenglian, one of the 37 NPC deputies submitting the motion, said that the law's imperfections have given rise to cruel and exploitative practices such as extraction of bile from live bears, skinning small animals alive for pelts and grinding bones of endangered tigers for use in medicine.
Wang Song, a researcher with the Institute of Zoology at the Chinese Academy of Sciences, lamented that the list of protected animals is so outdated that some animals that weren't granted first-class protection 24 years ago, such as the pangolin, have become seriously endangered.
The pangolin, or scaly anteater, is considered a rare delicacy in China and its scales reputedly to have medicinal qualities.
The lawmakers proposed that the law should put more animal species under protection, mete out harsher punishments for violators and encourage non-governmental organizations and the public to protect wild animals.
Luo suggested that the law should be expanded to protect all wild animals and their habitats, and should not only punish those who kill wild animals, but also those who trade and consume wild animals.
A report on waterfowl poaching in China published in November 2012 revealed that consumer demand fuels poaching of waterfowl for meat, and every year 80,000-120,000 birds in about 40 species are killed. The report was written by a study group led by Ma Ming, Vice Chairman of the China Ornithological Society and a researcher at the Xinjiang Institute of Ecology and Geography.
Ma found that a wild duck caught in Urumqi, capital of northwest China's Xinjiang Uygur Autonomous Region, is sold for about $4-5 locally, but nets a far higher price in southern cities like Changsha in Hunan Province and Guangzhou in Guangdong Province.
The motion also included a proposal for setting up a compensation fund for the ecological benefits of wild animal protection.
In many circumstances, local residents near nature reserves have to make sacrifices to protect wild animals. For instance, since last December, wild elephants in Xishuangbanna in southwest China's Yunnan Province have been reported to frequently roam near villages, munching crops and threatening villagers' personal safety.
Elephants caused 270 million yuan ($43.52 million) in direct economic losses and killed 33 people in Xishuangbanna from 1991 to 2010, a local forestry official told People's Daily.
The 1988 law stipulates that the local government should compensate crop damages and other losses incurred as a result of wild animal protection, and charges provincial authorities with formulating such measures.
The Central Government has earmarked 5 million yuan ($806,000) per year to Xishuangbanna for this purpose since 2005 and the State Forestry Administration has allocated an additional 1 million yuan ($161,200) per year since 2009.
In the past three years, the local government of Xishuangbanna has paid nearly 18.6 million yuan ($3 million) in premiums to insure against damages caused by protected animals. Nonetheless, the local branch of the China Pacific Insurance Co. Ltd. asserts that claims paid out exceeded premiums.
The motion to amend the 1988 law proposed a clause saying that the national government should set up funds to protect the natural habitats of endangered species as well as compensate human inhabitants who suffer losses as a result of environmental conservation measures.