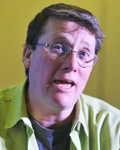 Richard Leslie Taylor(WEI YAO)
Richard Leslie Taylor is the creator and head of New Zealand film prop and special effects company Weta Workshop. He is famous around the world for his achievements in the field of film prop and visual effects. In this April, Taylor is invited to attend the 2013 Beijing International Film Festival (April 16-23) in Beijing. In an interview with Beijing Review reporter Bai Shi on April 15, he talked about his career and attendance of the film festival. Excerpts of the interview follow:
Beijing Review: Weta has made astonishing achievements in the disciplines of make up, costume and visual effects for film, receiving five Oscars, four BAFTAs (the British Academy of Film and Television Arts) and numerous other honors. What is your secret for success?
Richard Taylor:  My colleagues and I are passionate about what we do. We simply love our jobs. I've been in this business 25 years and have never given up chasing awards and producing wonderful products. I just love the creative process.
Our success is in part due to the unique country we live in and the desire to tell unique stories, recognized right across the world, in collaboration with excellent directors. We have had the great fortunes that we were working with.
All of us come together to give us the great benefit of working on amazing films and getting to do work that is now being recognized around the world by audiences. That drove what we do.
Powered by new technology, visual effects are playing and increasing role in the movie industry. Many are concerned this comes with a drop in artistic quality. What is your opinion on the future of film?
I don't think visual effects, in any way, lessen the artistry of a project, with some of the most creative minds in the world involved in the process. Effects don't rely on a bunch of scientific buffoons, but on creatively inspired artists. They had technical capabilities of utilizing very sophisticated equipment. It remains up to the director and screenwriter to utilize new technology in a way that engages audiences. Whether a movie is heartless, doesn't touch you or speaks to you, boils down to the successful use of visual effects. However, there is a drive to create more spectacles in film to satisfy a small piece of the market.
With such a plethora of content, critics need to make a noise to capture attention and fill cinemas. 
Nevertheless, we still have to tell artistic, non-effect driven stories and historical epics. My great hope is that the industry continues to utilize a broad spectrum of techniques including the more traditional model making, innovative creatures, miniatures and the techniques of visual effects combining all of it to make a great story telling.
In 2011, you brought The WotWots - a pre-school TV show - to China with distribution aid from a local company. What made you decide to involve yourself with Chinese entertainment?
We have had a very long relationship with Chinese companies on manufacturing work. It is over a decade now. And that relationship has been driven by an amazing can-do attitude here. There is incredible optimism that exists in the creative industry in China. We have always felt very confident that anything that we collaborate on would happen successfully. And that to this point has being this case. We've done some incredible collaboration around creative process here in China with our partner.
In recent years, we collaborated with Grand Entertainment, a Hong Kong-based company, distributing independently-created as well as co-produced content.
Did you meet any difficulties or obstacles during collaboration with Chinese partner? Are you planning to introduce any other projects into Chinese market?
To this point, no. This does not mean there won't be obstacles in future. China is a new market for us and therefore has complexities that we have yet to encounter and deal with. But I'd like to think that we New Zealanders are deeply respectful of Chinese culture and Chinese people, as Chinese people are deeply respectful of New Zealand culture. So there isn't difference in attitude that we all just want to achieve good things together.
We are trying to make bigger deals in Beijing. We hope so. We are looking to develop new opportunities. In future, we plan to bring bigger projects to Beijing and explore a few new opportunities. What will happen? Only time will tell.  In this year, we're exploring a number of possibilities in many centers around China. Regardless, our diary remains full and our attitude positive, especially in terms of our current partnership with Grand Entertainment in Guangzhou.