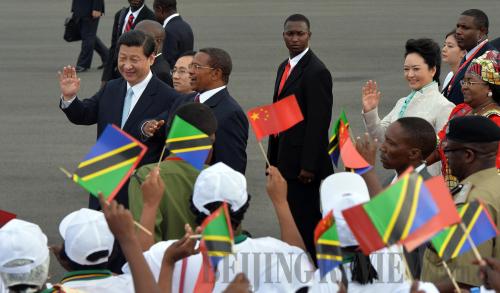 TOUCHDOWN IN AFRICA: Chinese President Xi Jinping (first left) and his wife Peng Liyuan (in white) are welcomed by Tanzanian President Jakaya Mrisho Kikwete and his wife Salma Kikwete in Dar es Salaam on March 24 (WANG YE)
During Chinese President Xi Jinping's visit to Tanzania, the newly elected leader hailed China's friendship with the African country as one deeply rooted in the hearts of both peoples. Speaking neither in exaggeration nor cliché, his words were an accurate portrayal of the China-Africa relationship.
Xi visited Tanzania, South Africa and the Republic of Congo in late March during his first trip abroad as Chinese president. Though China's African policy has been misunderstood and demonized in recent years by some Western media, the traditional brotherly friendship between Chinese and African peoples enjoys a long history.
Observers said that Xi's choice to visit African countries in his first overseas trip in office undoubtedly highlights the great importance China assigns to the Sino-African relationship.
It is true that Sino-African economic relations have developed quickly in recent years, but the current positive state of relations between China and African countries is based on their historic friendship and equality as well as mutual benefit, they said.
Long-standing friendship
China and Africa have maintained a close friendship for the last half century, marked by mutual respect, mutual benefit and win-win cooperation, said He Wenping, a researcher with the Institute of West Asian and African Studies at the Chinese Academy of Social Sciences.
Since the mid-20th century, Chinese and African peoples have supported each other on their just cause of fighting imperialism and seeking development. It is well known that in 1971, with the enormous support of African countries, China restored its lawful status in the UN. Late Chinese leader Mao Zedong once remarked, "It was our African brothers that carried us into the UN."
During his brief stay in Dar es Salaam, Tanzania, Xi paid a visit to a cemetery where 69 Chinese experts who lost their lives while on aid missions to Tanzania in the 1970s were buried, accompanied by Tanzanian President Jakaya Mrisho Kikwete.
More than 40 years ago, over 50,000 Chinese experts, technicians and workers went to Africa. They worked together with Africans to complete the Tanzania-Zambia Railway, which was of great significance for the economic development and decolonization of the African continent.
Li Wentao, a research fellow on African studies with the China Institutes of Contemporary International Relations, said Sino-African relations historically focused on mutual political support, but the rapid development of the Chinese economy in the past three decades has made Sino-African economic relations increasingly prominent.
Statistics from the Chinese Ministry of Commerce show that trade volume between China and Africa exceeded $10 billion in 2000, soaring to nearly $20 billion in 2012. In addition, by the end of 2012, China's direct investment in Africa had accumulated to nearly $20 billion, with 75 percent going to such sectors as finance, infrastructure, processing and manufacturing, trade-related services, agriculture and transportation.
"China's rapid development is a good opportunity for African countries. The fast growing Chinese economy benefits the African economy a lot," Li told Beijing Review. "Particularly, the boom in Sino-African trade relations started from the 1990s, at a time when Western countries showed indifference to Africa and many African countries were in financial trouble. Therefore, vigorous Sino-African economic relations did much to assist those countries in overcoming economic difficulties."
Li noted that the key factor for the rapid growth of Sino-African economic relations is that China is committed to promoting mutually beneficial cooperation without any political strings attached. "China develops economic relations with African countries on the basis of equality while respecting their way of development, which is welcomed by African countries," Li said.
South Africa's Deputy Minister of Economic Development Hlengiwe Buhle Mkhize is frank about how cooperation with China and other BRICS members differs from that with the West.
She said, "The developed world has always been interested in how they can benefit when cooperating with Africa, whereas with China and BRICS it is all about partnerships, the value chain, long-term relationships and cultural ties, all things you don't hear about in terms of traditional business relationships."
"Partnerships tend to be long-term and often have a win-win at the center. They also are about respect for each other and real commitment to mutual growth. There is a huge difference [between BRICS and the developed world]—you cannot compare [them]," she added.
Speaking about the proposed BRICS Development Bank, she said, "The terms will be different. All our lives we've been dictated to in terms of what the World Bank wants and how we are rated [by credit agencies] and this has nothing to do with our growth."