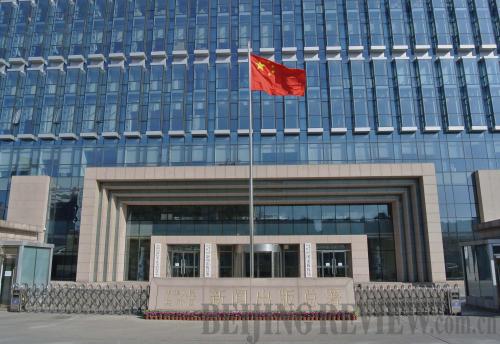 TO BE MERGED: The outside of the General Administration of Press and Publication, which is to be merged with the State Administration of Radio, Film and Television into a single authority (CHEN SHUGEN)
To build a well-structured, clean, efficient and service-oriented government, he said the government should continue transforming its functions and separate government administration from the management of enterprises, state assets, public institutions and social organizations.
Xue Lan, Dean of the School of Public Policy and Management at Tsinghua University, told Xinhua News Agency that the role of the government should be shifted from that of a player to a regulator.
"Currently, we stress the quality of economic growth, instead of the speed. To realize quality growth, we need enough room to release the creativity of all sectors under a proper market order," he said. "What the government should do is to set the rules and act as a judge."
Also, there is huge potential for non-governmental organizations to supplement the government in public services, he added. In the restructuring plan, the State Council pledged to ensure the market's fundamental role in allocating resources and let social organizations play a greater role in managing social issues.
Chen Yulu, an NPC deputy and President of Renmin University of China, said that the reforms are moving toward a limited government.
"This round of reform, together with the previous six rounds since 1982, aims at building a limited government that is in line with socialism with Chinese characteristics. A limited government is one that should be restricted by the law and society in terms of its scale, functions, power and behavior. A limited government should be an effective one ruled by the law," Chen told People's Daily.
Challenges
Zhu Jiali, a professor at the Chinese Academy of Governance, said that relevant laws should be formulated in case of setbacks in China's institutional reform.
For instance, after the institutional reform in 1982, the number of departments under the State Council was slashed from 100 to 61. However, the number rebounded to 71 in 1988, he said.
"It's quite necessary to formulate a law in this aspect," Zhu told The Beijing News. "Seeing from the international trend, government organizations are divided into two types: One for formulating policies and one for implementing those policies. The former type is more stable while the latter one is relatively more flexible. There should be a law to specify functions and power of the former type and how the latter type should change according to the times."
How to relocate staff is another tough test for reform. After the 1998 institutional reform, concerned civil servants were given three options: retiring before the legal age for some older civil servants, returning to school at the government's expense, or working in state-owned enterprises or public institutions.
"As long as there are dissolved or merged departments, there will be the problem of relocating personnel. It should be handled properly," said Wang Yukai, a professor from the National Academy of Governance. "According to my estimation, there won't be large-scale layoffs during this round of institutional reform because it's mainly focused on adjusting the functions of ministries."
Chen from the Renmin University of China said that when delegating power to lower levels, there might be a vacuum of government work.
"The government should be highly cautious on the potential short-term risks. When handing down power to lower levels or reorganizing departments, there might be an intermission of work. Also, it will be unlikely for some civil servants to focus on their work during the chaos. We should take this into consideration," he said.
Xue from the Tsinghua University pointed out that there is more to be done to better China's administrative system.
"To establish a sound administrative system, China still has a lot of work to do," he said.