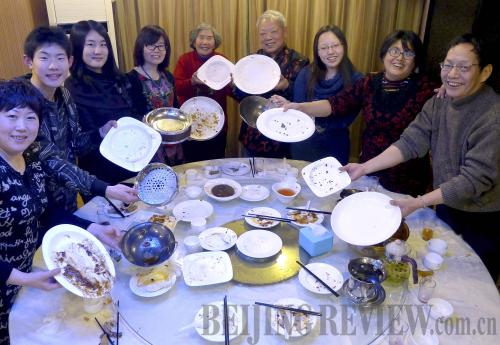 NO WASTE: A Beijing family shows clean plates after dining on the eve of the Chinese Lunar New Year on February 9 (XINHUA)
Urging conservation at the dinner table has become the clarion call of an online campaign.
Millions of netizens across China re-blogged China Land and Resources News Vice President Xu Zhijun's mid-January appeal to curb food wastage and appreciate the virtue of being thrifty even in times of plenty. Xu called for people to take uneaten food home after banquets.
Serving excessive amounts of food is rooted in China's culture of face. The sociological concept, closely related to honor and prestige, is readily observable at banquets, where excessive portions represent the host's overwhelming hospitality. A plenitude of uneaten food enables the host to gain face. However, if diners finish everything on the table, the host may lose face, appearing stingy or lacking finances.
Beijing-based China Agricultural University estimates 200 billion yuan ($32 billion) worth of food goes to waste in China each year, enough to feed approximately 200 million people.
After polling 2,700 diners in Chinese cities, the university concluded that at least 8 million tons of protein, enough for the annual demands of 260 million people, and 3 million tons of edible fat, close to 130 million people's annual consumption, were discarded from 2007 to 2008.
Such figures are astonishingly high in a country where 128 million people live on less than $1 a day. Official figures show that about 5 million people in southwest China's Guizhou Province received government food aid last year.
Public response
Xu's online crusade to encourage cleaned plates and bagged leftovers began in April 2012 but gained little traction until becoming the subject of reporting by the China Central Television (CCTV) and Xinhua News Agency. The microblog of People's Daily, China's most-circulated newspaper, deemed it an honorable act and a show of self-respect.
In late January, the Beijing Catering Trade Association, Beijing Cuisine Association and Beijing Western Food Association, along with 10 franchise restaurants in the city, launched a joint anti-waste initiative garnering rapid response. More than 750 restaurants in Beijing have announced that customers are encouraged to order smaller portions and take home what they can't finish.
At the Meizhou Dongpo Sichuan Restaurant, special posters are put on the tables to remind customers to order sparingly, while also pointing out that they are encouraged to take leftovers home. Instead of persuading customers to order a wide range of expensive dishes, waitresses would suggest modest orders to be supplemented later if diners are still hungry.
"We had 20 small-portion dishes before. Now, in order to answer the call to save food, we added another 10 half-portion dishes," said Tao Dan from the Marketing Office of the Meizhou Dongpo Sichuan Restaurant.
"We can avoid wasting food on the one hand, and on the other hand, customers can order a wider variety of dishes," Tao said.
Tang Qingshun, Chairman of the Beijing Food Industry Association, said that a pilot program for this campaign showed that the choice of small and half-portion dishes can reduce around 50 percent of the wasted food for family dinners.
Meanwhile, some restaurants offer rewards to customers who eat all their food or take away their leftovers or hand out coupons to diners who do not squander their food.