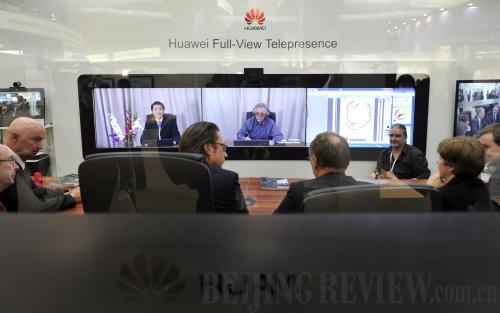 FULL VIEW: Staff from Huawei Technologies Co. Ltd. demonstrate its video conference system at a tech-fair in Hannover, Germany, in March 2012 (MA NING)
Chinese telecom equipment makers Huawei Technologies Co. Ltd. and ZTE Corp. currently face a stumbling block from the EU aimed at hindering them from accessing the continent's vast market. And this time, the accusation is that both companies are receiving illegal subsidies from the Chinese Government. Both companies deny the claims and say the EU is merely practicing trade protectionism.
Karel De Gucht, EU's Trade Commissioner, requested that EU suppliers be given a 30-percent share of China's telecom market in return for dropping an EU investigation into alleged subsidies from the Chinese Government to telecom equipment companies. He also insisted that Huawei and ZTE raise the price of their exports by 29 percent as part of the agreement, according to media reports.
Both Huawei and ZTE said they hadn't received any official notice of the incident and repeatedly denied having received improper subsidies from the government.
Right now, China's Ministry of Commerce has yet to make comments on the EU's requirements.
Huawei said in a company statement that it has always been an advocate of free trade, noting that power in innovation is the only driving force for the development of the telecom sector, not price.
"Huawei has been recognized by over 140 markets and has won the trust of 500-plus global operators. Huawei's success, on the one hand, comes from consumer-centered innovation, and on the other from an open and fair trade environment," says a company statement.
In response to claims of receiving "illegal subsidies from the Chinese Government," Meng Xiaozhou, CFO of Huawei says the company now has a $33-billion credit line from banks all over the world, among which 77 percent come from foreign banks.
ZTE said in a company statement that it has been operating a global company following the principles of openness and transparency while abiding by WTO trade rules.
"ZTE is a global company. We have won over consumers with technological innovation, the quality of our products, and good services," says the ZTE statement.
The EU's requests came after a series of accusations that have emerged from its crisis-mired economies.
In May 2012, the EU Commission said it had gathered solid evidence for an anti-dumping case against Huawei and ZTE, claiming that they had obtained illegal government subsidies permitting them to sell their equipment at prices below their European competitors. The commission alleges that the Chinese Government has illegally subsidized Huawei and ZTE­—particularly in the form of export credits—in order to fuel their growth in foreign markets.
In December 2012, the EU Commission accused Huawei and ZTE of selling their products at prices 35 percent lower than the market value and then subsequently dumping their products. The commission said it would make a decision in the upcoming weeks or months on whether or not to launch an investigation into their unfair trade practices. Once the EU determines that China was acting illegally, Huawei and ZTE could be subject to punitive EU tariffs.