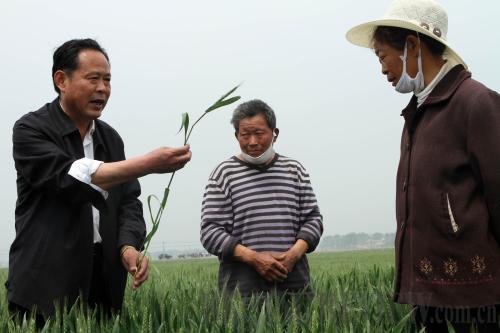 TIMELY SUPPORT: Li Xuezhang (left), a researcher at the Agricultural Technologies Promotion Center in Mengcheng County, east China's Anhui Province, explains pest control methods to local wheat farmers on April 27, 2011 (XINHUA)
"The massive use of advanced farming equipment and machinery in many areas has created the necessary conditions for commercial farming, which will break the bottlenecks of the current agricultural production model and have provided space for developing modern agriculture," said Wei Zhongsheng, an official from the Agricultural Department of the Henan Provincial Government.
According to a document recently issued by the CPC Central Committee and the State Council, China will complete registering and certifying farmers' ownership of contracted land and their land-use rights within five years. According to earlier statistics from the Ministry of Land and Resources, 86 percent of the work had been completed nationwide by the end of October 2012.
The document said that the government will guide the orderly transfers of contractual rights of rural land on the basis of agreed compensations, and encourage land contracts to flow to large-scale users, family farms or farming cooperatives so as to develop scale management.
It also pledged more subsidies to professional investors in the agricultural sector, family farms and farming cooperatives.
Zhu said that smooth transfers of land-use rights and stability of the system are necessary for the growth of professional farmers and large commercial farms.
He said that as farming has only recently become professionalized in China, the public should give them due respect. "They also need comprehensive training programs to broaden their knowledge scope," Zhu said. He also supports qualified urban residents to go to the countryside to become professional farmers so as to change the current one-way labor migration from the countryside to cities.
Zhang Xiaoshan is a senior expert on rural affairs at the Chinese Academy of Social Sciences and member of the Agriculture and Rural Affairs Committee of the Standing Committee of the National People's Congress. "China should establish a registration system for professional farmers so that they can receive special support and incentives from the government," Zhang suggested.
He said that the average income of professional farmers should be twice to thrice of migrant workers' salaries since they are both laborers and decision-makers and entitled to compensation for their work and returns on investment. He believes that as agriculture is an industry with high natural and market risks, professional farmers should receive sufficient returns to become satisfied entrepreneurs in this new area.
Email us at: tangyuankai@bjreview.com