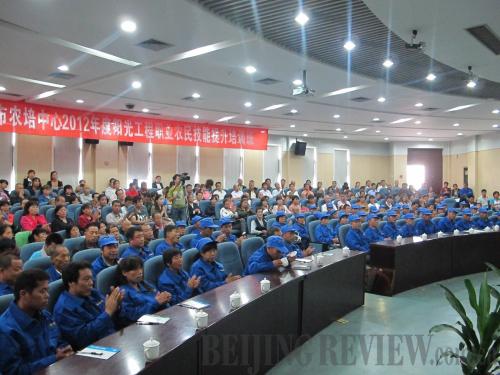 BLUE-COLLAR FARMERS: Farmers attend a two-day government-provided training program on the latest agricultural technologies in Xi'an, Shaanxi Province, on September 7, 2012 (COURTESY OF MINISTRY OF AGRICULTURE)
However, Liu Zhi quit her job in Shanghai before marrying a primary school teacher in her hometown in 2007, when she decided to switch to commercial farming. In 2008, a document adopted at the Third Plenary Session of the 17th Central Committee of the Communist Party of China (CPC) gave the green light for farmers to subcontract, lease, exchange, transfer and swap their land-use rights so as to encourage the development of large farms. Liu Zhi and her husband decided to rent land from fellow villagers who worked in cities totaling around 133 hectares. They landscaped terraces, which facilitates the use of large farming machinery and advanced technologies.
The commercial farming trend has also spread to Xiaogang Village in eastern Anhui Province, the birthplace of the household responsibility system, which has greatly boosted China's agricultural productivity by allowing rural households to contract collectively owned land, machinery and other facilities since the late 1970s. A few years ago, more than one third of the village's farmland was transferred to cooperatives, which boosted the proceeds from the land at least five fold.
Wang Huijun, President of the Hebei Provincial Academy of Agriculture and Forestry Sciences, said that while the household responsibility system has played a key role in eliminating hunger in general in China, it hinders the development of commercial farming under a market economy.
As early as 10 years ago, Wang predicted that the development of agriculture in China relies on industrializing the sector and turning farming into a profession.
"The emergence of professional farmers pronounces the end of individual household farming with all its disadvantages. Under the new model, farming equipment and machinery will be massively utilized, production costs will be lowered, efficiency will be raised, economies of scale will be realized and agricultural product branding strategies will be viable. These are all development trends for modern agriculture," Wang said.
In official documents, a professional farmer is deemed as a person who tries to maximize his or her profits from commercial agricultural operations. Professor Zhu Qizhen at China Agricultural University, who participated in drafting the plan to train professional farmers for the Ministry of Agriculture, said that professional farmers should have three characteristics: First, they are able to navigate the market and reap big from farming. Second, they take farming as a lifelong career. Third, they have a strong sense of responsibility for the ecosystem and future generations in addition to technological and business know-how.
The Chinese Government already listed "nurturing professional farmers" as a priority in a document issued in early 2012. At the launch ceremony of a professional farmer training program in Bengbu City, Anhui Province, on December 15, 2012, Vice Minister of Agriculture Zhang Taolin said that the government planned to offer training to 100,000 professional farmers through pilot programs in 100 counties, cities or districts across the country over the next three years.