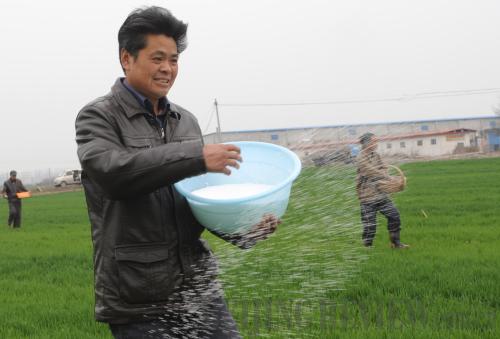 LAND OF HOPE: Liu Xueyou, who runs a farming cooperative with more than 1,000 hectares of land in Xixian County, central China's Henan Province, fertilizes wheat by hand on March 20, 2012 (ZHAO PENG)
With the acceleration of industrialization and urbanization in China, many young farmers, especially males, have left the countryside to seek employment or start small businesses in cities. Land has been mainly farmed by the elderly people or women who stay behind in the countryside. A growing number of farmers are deserting agricultural production due to rising production costs, natural and market risks, as well as constraints of the environment and resources involved.
According to a survey conducted by China Agricultural University in 2010 across 10 provinces, the average age of people working in the fields was 57 and they mainly grew grain to satisfy their families' own needs.
Zhang Zhaoxin, a senior research fellow with the Research Center for Rural Economy under the Ministry of Agriculture, said that the aging of the rural labor force has led to two new challenges for China's agricultural development: First, farmers are slow to adopt new crop varieties and new technologies, which limits technology's role in increasing agricultural productivity; second, farmers tend to grow crops that require the least input of labor and money. Zhang estimated that 250 million farmers nationwide moved to cities in the last few decades while there are still 270 million farmers in the countryside.
The Shaanxi Agricultural Technology Training Center recently conducted a survey on 4,500 rural households in 300 villages in the province. It was found that during the last decades around 3.52 million farmers moved from agriculture to other sectors in Shaanxi alone.
According to Kang Wei, deputy director of the training center who was in charge of the survey, women account for 53.1 percent while people above 51 years old account for one third of the province's current rural labor force. "Farmers mostly split their time between working in the fields and doing odds jobs to supplement family income. Sometimes, farmland was even left uncultivated by farmers due to shortage of labor," he said.
"In many places in China, rural families rely on manual labor in cities as their major income source," said Wang Hong, head of the Agricultural Department of the Shaanxi Provincial Government. He estimated that salaries from urban jobs account for up to 70 percent of rural families' income in some places. "If this situation remains, we will have to face the harsh reality that nobody is willing to work in the fields 20 years from now," he warned.
Wang Hong believes to revitalize rural infrastructure and achieve agricultural modernization, professional farmers will play a key role in solving the problems related to China's agriculture, countryside and farmers.
About 10 years ago, Liu Xueyou, a farmer in Pengdian Township in Xixian County, central China's Henan Province, once had a dream of turning uncultivated land in his village into endless wheat fields. Now Liu has earned the nickname "wheat king."
In 2002 Liu contracted the farming of 3 hectares of uncultivated land from the village. He had increased the contracted land to 30 hectares by 2004 and turned it fertile by having it leveled and building irrigation canals. His farm brought in an annual revenue exceeding 200,000 yuan ($32,152) in the year. After seeing the business potential of large farms, he soon set up a cooperative to further lower the planting costs. More than 100 households have joined Liu's cooperative, which has a farm of more than 1,000 hectares.
Liu Zhi, who was born and raised in Zhonglin Village in Tongwei County, northwest China's Gansu Province, has a similar career trajectory. After completing junior middle school, she took on various odds jobs in cities. In 2005, the diligent woman with strong learning capacity landed a job as a department chief at a major consumer products company in Shanghai. Her monthly salary was between 6,000 yuan ($968) and 7,000 yuan ($1,129), making her the envy of her hometown where the per-capita annual income for farmers was less than 3,000 yuan ($484).