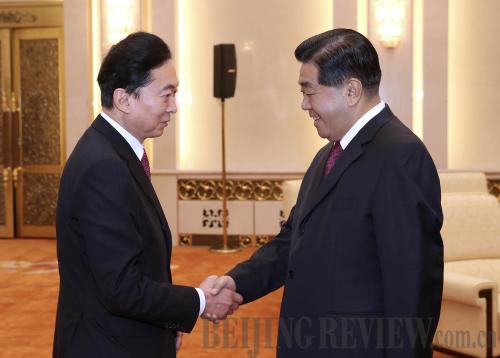 IN TALKS: Jia Qinglin (right), Chairman of the National Committee of the Chinese People's Political Consultative Conference, China's top political advisory body, meets with former Japanese Prime Minister Yukio Hatoyama in Beijing on January 16 (XINHUA)
Japanese Prime Minister Shinzo Abe said he would work to put strained China-Japan relations caused by the territorial dispute over the Diaoyu Islands back on track at the first official press conference after his party won the general election last December. But a series of diplomatic and military moves of the new Japanese cabinet within weeks of Abe taking office were in stark contrast to the words of the new prime minister.
Observers said recent moves taken by the Japanese Government lose sight of the essence of peacemaking in resolving the island dispute. They are counterproductive to revitalizing strategic and mutually beneficial China-Japan relations.
Under the current situation, observers said both China and Japan should remain calm, prevent the escalation of the dispute and try to create a more relaxed atmosphere for talks.
It is widely believed that Japan has moved swiftly to hem in China diplomatically since Abe's new cabinet took office.
Abe sent Vice Prime Minister Taro Aso to Myanmar at the beginning of January to bolster Japanese investment in the promising and underexplored market, where China already has a substantial presence. Shortly after, Japanese Foreign Minister Fumio Kishida began his first trip as the country's top diplomat to the Philippines, Singapore, Brunei and Australia. Meanwhile, with Abe's visit to Washington postponed, the new prime minister chose Viet Nam, Thailand and Indonesia as the destinations of his first official foreign tour.
Chinese observers said these visits aimed not only to deepen economic ties with Southeast Asian countries but also to shore up its strategic presence in the region—ultimately as a means to encircle China.
"It seems that Japan wishes to surround and isolate China by wooing other countries in the region, thereby gaining an edge in the Diaoyu Islands dispute," said Jia Xiudong, a senior research fellow with the China Institute of International Studies.
Abe's diplomatic arrangement is meant to build a kind of international strategic landscape that favors Japan while standing against China, said Liu Jiangyong, a professor of international relations with Tsinghua University. Though the diplomatic debut of Abe's second term as prime minister geographically steered clear of China, it nonetheless kept China at its diplomatic core in the region, said Liu.
"The Abe administration is trying to strengthen ties with some Asia-Pacific countries to create a better international landscape for Japan, while attempting to sow discord between China and some of its neighbors for Japan's own benefit," said the professor.
Despite similarly strained ties with Seoul over a separate territorial spat, Abe's interactions with South Korea showed a greater eagerness to repair ties there. The Japanese prime minister recently said he hoped to establish a trusting relationship with President-elect Park Geun Hye as soon as possible. In early January, Abe sent former Japanese Finance Minister Fukushiro Nukaga to lead envoys to Seoul in order to mend bilateral relations. The envoys delivered a letter to Park, in which Abe voiced hope for progress in bilateral relations.
During Taro's latest visit to Myanmar, Japan announced that it will write off Myanmar's overdue debt and provide a fresh low-interest loan. And Japanese media reported that during his latest Viet Nam visit Abe promised closer security ties with the ASEAN country, seeking to bolster an alliance between Japan and other countries embroiled in territorial disputes with China.
"Abe's efforts to ease tensions with South Korea, deepen relations with ASEAN countries as well as his possible visit to Russia in April are all essentially international public relations exercises relating to Japan's island dispute with China," Liu said.
"Tokyo knows that it cannot confront Beijing directly, and that's why it depends on its alliance with Washington while courting other regional players that it can collaborate with, including Australia and some ASEAN countries," Liu said. "But East Asian countries still have wariness about Japan's moving politically right as well as Abe's attitude toward Japan's past war crimes."
It is not an exaggeration to call Abe's new cabinet right wing. Fourteen in the cabinet belong to the League for Going to Worship Together at Yasukuni, a Tokyo shrine that honors war dead including some war criminals of World War II. Thirteen support Nihon Kaigi, a nationalist think tank that rejects Japan's "apology diplomacy" for its wartime misdeeds. Nine belong to a parliamentary association that wants the teaching of history in schools to present a better image of Japan's militarist era. They deny most of Japan's wartime atrocities.