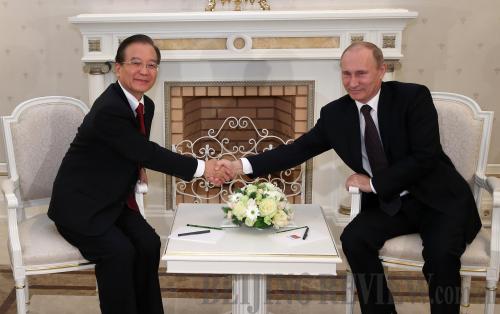 TIGHT BOND: Visiting Chinese Premier Wen Jiabao meets with Russian President Vladimir Putin in Sochi on December 6 (PANG XINGLEI)
The next 10 years of relations between China and Russia were hinted at with Vladimir Putin's reelection as the Russian president and the debut of a new generation of leadership of China's ruling Party. Both sides anticipate a continuation of the steady development of their relationship characteristic of the past decade.
Chinese international affairs analysts noted that the two neighbors have established a solid legal basis for regular cooperation. Their partnership will benefit the region and the world as well as further their own strategic interests.
Relations between China and Russia have developed steadily in recent years. Both sides are satisfied with the state of their strategic cooperative partnership, believing their relationship is at its best in history. Putin commented that they are setting an example for a new-type bond between great powers.
Wang Lijiu, a researcher with the China Institutes of Contemporary International Relations (CICIR), affirmed that the two neighbors have jointly set up various dialogue mechanisms since the 1990s, which serve as cornerstones of the China-Russia partnership.
"The bilateral relationship has shown a tendency of steady development in the past 10 years. This tendency will continue in the coming 10 years," he told Beijing Review.
From December 5 to 6, Chinese Premier Wen Jiabao visited Russia and met with Putin, who was sworn in for a six-year term in May, and Russian Prime Minister Dmitry Medvedev.
Wen's visit served as a link between the past and the future, said Wang Lijiu.
During the visit, the two countries signed the joint communiqué of the 17th regular meeting between Chinese and Russian prime ministers as well as a number of bilateral cooperative documents.
China and Russia also reached consensus on further boosting bilateral pragmatic cooperation during a conference co-chaired by Chinese Vice Premier Wang Qishan and Russian Deputy Prime Minister Dmitry Rogozin on December 5. The two sides signed a series of cooperative documents worth $4.9 billion.
Chinese Foreign Minister Yang Jiechi described Wen's visit as a successful trip for consolidating friendship and deepening cooperation with neighboring countries. He pointed out that China-Russia relations have entered a new stage wherein both countries regard each other in terms of new development opportunities and a priority for close cooperation, which is essential for the two countries' development and revitalization as well as world peace and stability.
Wang Lijiu pointed out that the regular meeting between Chinese and Russian heads of government is one of the mechanisms between the two countries that have been established based on high mutual trust during the past 20 years.
Wen's meeting with Medvedev was the first such occurrence between the premiers of the two countries after the 18th National Congress of the Communist Party of China. Wen, who has been China's premier since 2003, is expected to hand over his post to Vice Premier Li Keqiang early next year.
"Now both countries are at a special period of power shift. We are convinced that the future development of bilateral relations will remain healthy and steady, because the China-Russia bond is guaranteed by reliable mechanisms of regular meetings, exchanges and cooperation in various fields," Wang Lijiu said.
He stressed that these regular meeting mechanisms, ranging from the state-leader level to the ministerial level, allow China to interact with Russia to an extent rarely seen. China is the only country outside the Commonwealth of Independent States with which Russia has established complete meeting mechanisms.
"These mechanisms have played a significant role in deepening bilateral relations, and helped enrich the relationship with pragmatic substance," said Wang Lijiu. One sign of their success is the China-Russia crude oil pipeline that has been put into operation. Following rounds of vice premier-level energy negotiations, the oil pipeline is transporting 15 million tons of oil from Russia to China every year. Moreover, the two sides are carrying out discussions to implement coal, electric power, nuclear power and natural gas cooperation projects. They have also carried out joint research on manufacturing long-range wide-body passenger planes and heavy helicopters.