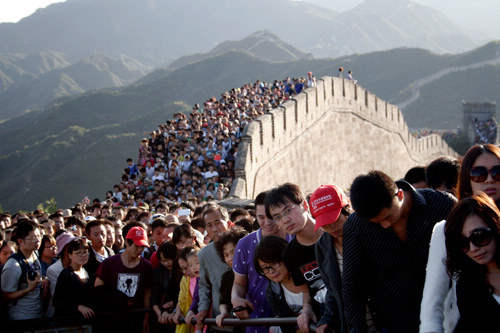 SIGHT SEEING OR PEOPLE SEEING?: Tourists inch forward on the Badaling Great Wall. On October 3, 81,000 tourists visited the world-renowned tourist spot (CFP)
"An eight-day super-long holiday, the first-time exemption of highway tolls and a mark-down in the ticket price of many scenic spots to woo visitors spurred a passion in the Chinese people for tourism," he said.
To attract tourists, more than 150 well-known scenic spots cut their ticket prices by an average of 30 percent, official statistics showed.
The holiday saw a significant increase in the number of road travelers due to the government's toll-free policy.
In an effort to stimulate consumption, the Chinese Government in August decided to lift highway tolls on roads and bridges nationwide for passenger vehicles with seven seats or less during the four major Chinese holidays—the Spring Festival, Tomb Sweeping Day, May Day and the National Day. For this past holiday, roads were toll free from September 30 until October 7.
A record of 80.87 million people traveled by road each day during the holiday, for a total of 647 million, according to the Ministry of Transport.
The free pass on highways saved road travelers 20 billion yuan ($3.19 billion) but will bring about 200 billion yuan ($31.86 billion) in tourism revenue nationwide, said Peng Zhizhong, Director of the Logistic Management Research Institute at the Shandong University, to Xinhua News Agency.
The spending carnival during the Golden Week supports the argument that Chinese consumers are a bright spot in a slowing economy.
"Chinese tourists are in a spending mood," said Uwe Parpart, chief strategist and head of research with Reorient Financial Markets in Hong Kong. "People don't travel and spend when the economy is in terrible shape."
Doomsayers once predicted a "hard landing" for the Chinese economy, which thus far has been proven groundless. Judging from the consumption figures during the Golden Week, we see that hard landing enthusiasts have completely underestimated and ignored the growth potential of the Chinese economy, said Zhang Yongjun, a research fellow at the China Center for International Economic Exchanges.
Zhang's view is supported by a report from Bank of America-Merrill Lynch.
Anyone who previously believed that China was in trouble because of falling stock prices and suffering from a slowdown in economic growth should be astonished by the Golden Week consumption figures, Ting Lu and Larry Hu, economists with Bank of America-Merrill Lynch, said in the report.
The report also notes that tourism figures during the Golden Week can reflect the condition of the country better than the data routinely used by economists, such as power usage and industrial production.
"Chinese consumers are still relatively confident about China's economic fundamentals," Lu and Hu said in the report. "Strong tourism data support our soft-landing views … and also point to a shift of consumption toward leisure, a new source of demand."