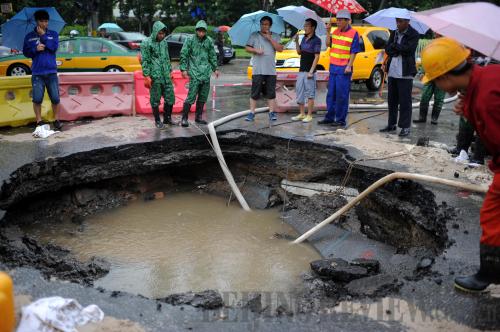 DEPRESSED ROAD: A 2-square-meter pit appears at the intersection between Wanghua Road and Huajiadi Street in Beijing's Chaoyang District on August 1 (CFP)
As summer heat subsides, so does the rain phobia that has afflicted Beijing residents since the July 21 downpour that claimed 79 lives. But residents still have to deal with an irksome aftermath of the torrential rain—road cave-ins.
Ninety-nine cave-ins on Beijing's roads were reported in the 20 days after the city's most severe rainstorm in 61 years, leaving pits of different sizes. The largest one was 30 square meters large and 3 meters deep in Haidian District.
The number of road cave-ins in Beijing is nearly two thirds more than those in the same period last year, according to official statistics.
At around 5 p.m. on August 12, part of the road surface on Baiwanzhuang Street in Xicheng District caved in 1 meter below. After seeing a 2-square-meter pit appearing on the road, a middle-aged man parked his electric bike near it to alert people and directed passing vehicles away from the cavity until police officers arrived.
Road maintenance workers arrived at around 7 p.m., filling the pit and repaving the road. Fortunately, the accident did not result in any injuries despite heavy traffic.
Road cave-ins have recently been reported in major Chinese cities, including Harbin in Heilongjiang Province and Dalian in Liaoning Province in the northeast, Yangzhou in eastern Jiangsu Province and Changsha in central Hunan Province
In Harbin, seven cave-ins occurred from August 9 to 17. The accident that took place at 4 p.m. on August 14 in front of a store on Liaoyang Street, Nangang District, resulted in two deaths and two injuries. The collapsed area was around 20 square meters.
Jin Zhenshu, a victim around 60 years old, recalled she was sitting in front of the store, watching her school-age granddaughter playing. Then a woman carrying a baby passed by the store.
"Without any warning, the road beneath buckled. It became dark in front of me. My granddaughter, the woman carrying the baby and I fell off. After hearing a loud thundering sound, I lost consciousness," Jin said.
After a while, Jin woke up and found most of her body buried in mud. It was dark and cold around her. She could not move or utter a sound. She struggled to get out, but fainted again. When she woke up again, she was in hospital, being treated for bone fractures.
The baby, 14-month-old Guo Xiaoyu, also survived, leaving scars on her face and a 2-cm cut on the back of her head.
On the same day the pit on Harbin's road victimized four pedestrians, a man in Dalian suffered burns across 65 percent of his body after he fell into hot water leaking from underground heating pipes.
Netizen Diudiu said when she and her husband were strolling that day, they noticed a man walking nearby had suddenly disappeared. Then they saw steam rising from the road. It dawned on the husband that the man might have fallen into a manhole connected to a heating pipe. The husband dashed to the collapsed area, and saw the man raising two hands, yelling for help. He dragged the man up. The victim was rushed to hospital.
The accident in Dalian is reminiscent of a similar one in Beijing on April 1 that killed a young woman named Yang Erjing. Yang was walking on a road near Chegongzhuang in Xicheng District when the ground underneath her suddenly collapsed. Yang fell into a pool of hot water formed by water leaking from a pipeline operated by the Beijing District Heating Group. Scalded by 90-degree water, Yang died several days later in a hospital.