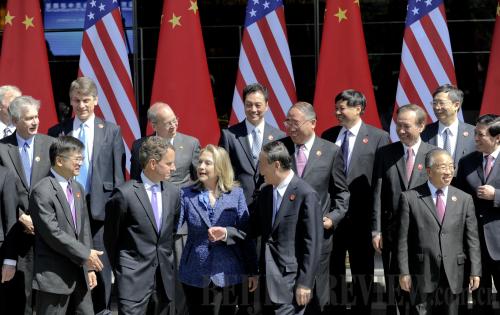 THE MOMENT: (From left to right in front) U.S. Treasury Secretary Timothy Geithner, Secretary of State Hillary Clinton, Chinese Vice Premier Wang Qishan and State Councilor Dai Bingguo at the fourth round of China-U.S. Strategic and Economic Dialogue in Beijing on May 3 (LIAO PAN)
It seemed a traditional belief that two major powers must confront each other. Now China and the United States are the two biggest economies in the world. But they are actively working to build a new type of relationship by deepening mutual trust, mutual respect and win-win cooperation because today's world is different. Their efforts are visible under the framework of China-U.S. Strategic and Economic Dialogue (S&ED).
Today, China and the United States face the fact that their common interests and competition are interwoven. How to build relations is the core problem that China and the United States should work together to solve, said Zhao Kejin, a specialist in foreign studies at Tsinghua University. He pointed out that complicated changes in international political and economic situations provide opportunities for development of the bilateral relationship and inject great impetus into the latest S&ED, which is the most important political experiment for building a new relationship between the two powers. "The two sides' cooperation is getting more practical," Zhao said.
The fourth round of the S&ED, which was titled Promote Win-Win Cooperation and Build a New Type of Relations Between Major Countries, was held in Beijing on May 3 to 4, with 67 concrete results achieved. The dialogue framework has been an important cooperative platform between the two sides. Chinese Vice Premier Wang Qishan said the two sides have reached 218 cooperative results during the past three years since the framework was established, which brought factual benefits for both nations.
Economic cooperation has always been a focus of the relationship. Trade and economic relations based on win-win cooperation serves as glue pasting the two countries together. Now China is seeking an economic transformation, and the United States is in urgent need of economic revival, which made this year's dialogue fruitful.
Under pressure of the coming presidential election, U.S. President Barack Obama's administration hopes to realize economic revival as soon as possible. Its major overseas helper is China. Close China-U.S. economic cooperation is of strategic significance to such an economic revival, said Zhao, explaining that China's influence is decisive especially to Washington's plan to increase exports.
Ding Yifan, Deputy Director at the Institute of World Development of the Development Research Center of the State Council, pointed out the U.S. exports to China have been the backbone of U.S. foreign trade in recent years. U.S. trade volume to China has almost doubled since 2009. The growth speed is about twice its export growth to other markets. In 2011, the U.S. commodity and service exports to China reached $130 billion, providing over 600,000 job opportunities to Americans.
"You have to look at the trend line, not just the headlines. That is especially true in the China-U.S. relationship," said Secretary of State Hillary Clinton at the dialogue. "The trend is clear. Our country is growing more interdependent. So we need to build a resilient relationship that allows both of us thrive and meet our regional and global responsibilities."
The two sides reached agreements on promoting free trade and intellectual property protection, showing their common concerns. Ding pointed out that China is worried about the recently-showed trade protection in the United States. The United States established a trans-departmental trade law enforcement center targeting at Chinese products. And the U.S. Congress amended the country's Countervailing Act, and added some Chinese enterprises to its antidumping and anti-subsidy lists. Under that background China hopes the agreement can help to maintain the bilateral trade and economic relationship on a good trend.
Ding pointed out that the United States has been focusing on China's intellectual property protection. However, he said, China also has the demand of protecting its intellectual property. With the development of China's economy, the two sides have more common needs on this point. Statistics show that China's ZTE Corp. was the world champion of applying for the most patents in 2011. And another Chinese enterprise, Huawei, was the third. Chinese enterprises also have urgent needs to protect their intellectual property, he said.