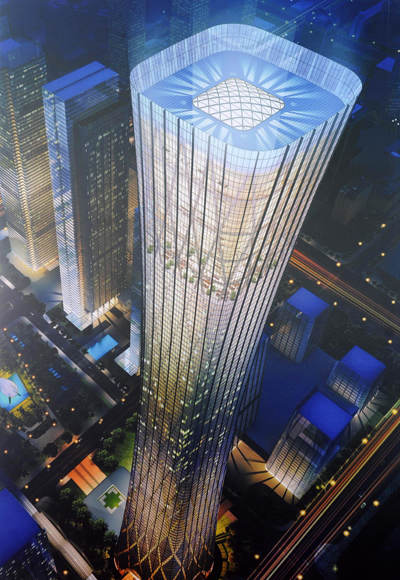 A NEW LANDMARK: Artist rendering of China Zun, which is being built in Beijing and scheduled to be the city's tallest skyscraper (LUO XIAOGUANG)
Authorities in Wuhan, capital of central China's Hubei Province, are mulling whether to add height to a building project, in order to construct what would be the tallest building in China upon its completion.
The Wuhan-based contractor Greenland Construction Group announced the possible change in the building's height on February 27.
"The Wuhan Municipal Government initiated the adjustment plan in order to bring about a landmark building," said Lu Zhenxing, the company's marketing director.
The Wuhan Greenland Center, being built in the downtown Wuchang area of Wuhan, was originally designed to rise approximately 606 meters and have 119 stories above ground and six beneath, with a total floor area of around 300,000 square meters and an investment of 5 billion yuan ($791 million). Based on initial plans, the skyscraper, which is expected to contain luxury hotel suites, office space, high-end stores and apartments, would have been the second-tallest building in China upon its completion in 2017.
The adjustment will require its height to surpass that of the 632-meter Shanghai Tower, which is under construction and currently scheduled to become China's tallest building.
The Wuhan Greenland Center broke ground in 2011 and work is still being done on its foundation pit. The building is part of a planned commercial compound that will cover 3 million square meters and cost about 30 billion yuan ($4.74 billion).
Xiao De, a professor at the School of Business of the Wuhan-based Hubei University, said he was not surprised by the height adjustment plans. "Along with the constant development of China's economy, it has become a common phenomenon in Chinese cities to compete for having the 'tallest building,' in order to show wealth or boost their international recognition," Xiao said.
In Wuhan alone, three buildings taller than 600 meters were proposed in the past year—the 606-meter Greenland Center, a 666-meter high-rise in Hanzhengjie Market and a 707-meter skyscraper along the Yangtze River in Jiang'an District.
In Beijing, construction work on a 108-story building, called China Zun, began with a groundbreaking ceremony in the city's central business district (CBD) last September. Shaped like an ancient Chinese wine vessel, the 500-meter-high skyscraper will be the capital's tallest building, dwarfing the nearby China World Trade Center Tower 3, which at 330 meters is the tallest building in the city.
According to a report, entitled 2011 Skyscraper City Rankings of China, released by the Shanghai-based Skyscrapers magazine in June 2011, the total number of skyscrapers under construction in China had exceeded 200, equal to the total number of skyscrapers in the United States. Hong Kong had the most skyscrapers of any Chinese city with 58, followed by Shanghai with 51 and Shenzhen, a boomtown in southern Guangdong Province, with 46.
Skyscrapers are defined in the report as buildings of more than 500 feet, or 152.4 meters, in height.
A new skyscraper is built every five days in China and by 2016 the total number of skyscrapers in the country is expected to exceed 800, says the report.
Currently, seven of the world's 10 tallest buildings are in China.
Given the overall size of China's economy, the report raises doubts over whether the country needs so many skyscrapers.
The Skyscraper report also suggests that China might be over-investing in skyscrapers.
The biggest concern is that some cities with limited financial resources have also announced plans to build expensive skyscrapers.
Take Guiyang, capital of southwestern Guizhou Province, for example. It was ranked fifth in terms of the number of high-rise buildings under construction, according to the report. The city planned to build 17 skyscrapers. Its GDP, however, only recently breached the 100-billion-yuan ($15.82-billion) mark, too low to sustain the construction of so many skyscrapers.
Wang Jianmao, an economics professor at the Shanghai-based China-Europe International Business School, said that skyscraper construction, initially seen as a way of improving land efficiency, has resulted in too many vanity projects in China.