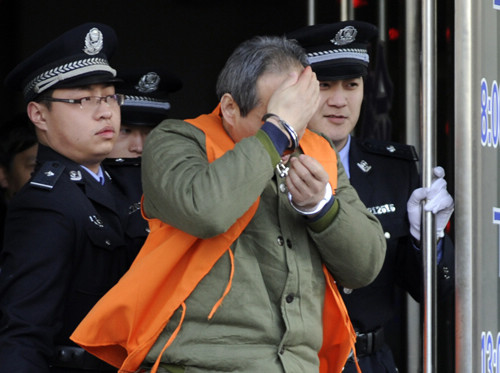 TUMOR REMOVED: Zhang Jianqiang, former Director of the Chinese Football Association's Referee Committee, steps out of court after being tried on charges of corruption in Tieling, northeast China's Liaoning Province, on December 19, 2011 (CFP)
On December 19, 2011, the long-awaited Chinese soccer corruption trials began in Tieling, in northeast China's Liaoning Province.
China's professional leagues have been plagued with allegations of gambling, match-fixing and crooked refereeing for years. In March 2009, a high-profile committee was set up by 12 ministry-level bodies to clean up corruption in Chinese soccer.
Since then, many officials, referees and former players have been arrested and tried, including three former vice presidents of the Chinese Football Association (CFA).
The scandals, coupled with the national teams' poor performance, have made soccer a source of disappointment even for diehard fans.
Last November, the Chinese men's team failed for the third consecutive time to qualify for the World Cup finals since its first and only appearance at the 2002 World Cup finals, which were co-hosted by Japan and the Republic of Korea.
The Chinese men's team also did not qualify for the 2012 London Olympic Games and, for the first time, China's s once world-beating women's team did not even qualify for the World Cup tournaments.
"Chinese soccer is having its hardest time now, but I believe that with the support of our fans and the backing of other ministries and commissions, we definitely have hope," said Cai Zhenhua, Vice Minister of the General Administration of Sport, in an interview with national broadcaster CCTV on December 10 last year.
Cai, according to Chinese media, is a leading hopeful for the CFA presidency at the organization's next congress, which has been indefinitely postponed due to the scandals.
"I'm full of confidence and determination to make Chinese people satisfied with the sport and to make the Chinese national teams regular participants in Asian and world tournaments in the coming years," Cai said.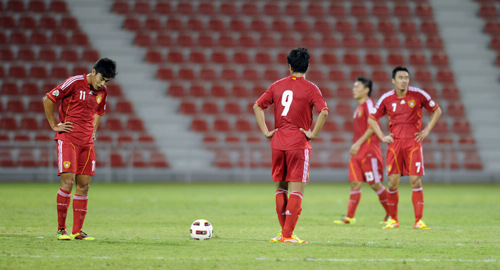 DEFEAT AGAIN: Chinese players show dissapointment after losing to Iraq 0:1 in Asian World Cup qualifying on November 11, 2011 (CHEN SHAOJIN)
Last July, the CFA and Dalian Wanda Group signed a strategic cooperation agreement in Beijing.
Wanda is a Chinese company whose assets are estimated at 140 billion yuan ($20.5 billion) through its ventures in commercial properties, luxury hotels, chain stores and tourism. It promised to inject 500 million yuan ($73.21 million) over three years to boost Chinese soccer, including sponsoring the Chinese Super League (CSL) until 2013 to the tune of 65 million yuan ($9.52 million) each season.
Wanda's involvement is widely regarded as a new start for Chinese soccer as its chairman, Wang Jianlin, spent a successful tenure in Chinese soccer from 1994 to 1998, when he built the Dalian Wanda club into a powerhouse in the country's top-tier league.
With Wanda's financial support, the CFA recruited former Spanish national coach Jose Antonio Camacho as head coach of the Chinese men's team in mid-August last year. The 56-year-old Spaniard signed a three-year deal with the CFA. He and his assistants are paid more than 40 million yuan ($5.86 million) a year by Wanda.
Although Camacho eventually failed to inspire the Chinese team to qualify for the 2014 World Cup finals, he still retained his job.