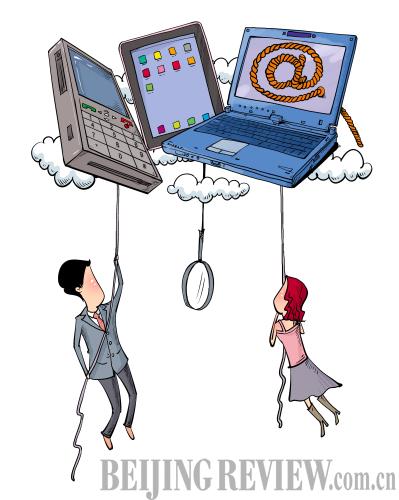 ONLINE OATH: Many young couples now choose to make life and love promises on the Internet (CFP)
On April 22, a post on the microblogging website Weibo.com caught netizens' attention across China. Fu Weigang, a 34-year-old lawyer who works at the Shanghai Institute of Finance and Law, said in the post every time his post was forwarded, he would give 1 yuan ($0.15) to the son of Zhang Miao, a young mother stabbed to death by a student in Xi'an, capital of northwest China's Shaanxi Province, last year.
The killer was sentenced to death and ordered to pay compensation of 45,498.50 yuan ($6,975) to Zhang's family. Fu believed the compensation was too small, so he launched the donation campaign in order to help the impoverished family.
But Fu never expected there would be so many followers to this post. Within three days, Fu's microblog, which previously had 600 followers, got more than 50,000 new followers, and his post had been forwarded more than 360,000 times by April 25.
"I made this promise on impulse originally," said Fu, who revealed he got this idea on his way for lunch. "I didn't even know whether the victim had a son or a daughter. At that time, I had only 600 followers. I thought, at most, this post will only be forwarded for several thousands times and I would be fully able to handle that."
Ten minutes after he posted the donation pledge, Fu added another post saying multiple forwards by a same person would be counted only once.
It was too late. His post had already gone viral.
Fu eventually set the maximal amount of his donation at 540,000 yuan ($83,407), the compensation that Zhang's family asked at court. He said some of his friends and fellow posters would help him raise the cash.
Inspired by Fu's efforts, Xu Youzhen, the owner of a network firm, said he would donate 2 yuan ($0.30) for each extra follower on his microblog with an upper limit of 2 million yuan ($307,000). A businessman from Shenzhen and a journalist also launched similar campaigns.
At first, Wang Hui, the husband of Zhang, refused to take such a substantial sum of money, fearing this would be a heavy burden for Fu.
"It is a promise I made and a lot of people witnessed that," Fu said. "I was serious making this promise and I can't eat my words."
A new trend
On January 16, at a wedding ceremony held in Urumqi, capital of Xinjiang Uygur Autonomous Region in northwest China, the bride and bridegroom announced their promise posted together on 3150114.com, a website that collects people's promises.
The 23-year-old bride, Gao Panpan, heard about the website from a friend. "I saw many promises on the website, about love, friendship and business. It was very new and interesting for me and I wanted to give it a try. I want more people to see our promise," she said.
Gao then made the promise with her would-be husband Jia Guofa on the website that they will "grow old together."
People post various promises on this website. Some even uploaded their pictures and posted their cellphone numbers.