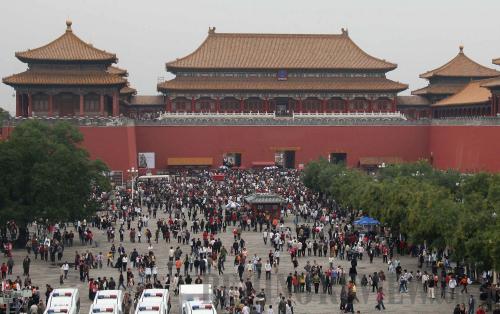 ALWAYS CROWDED: The Palace Museum, a popular tourist destination in Beijing, is packed with tourists on holiday (XING GUANGLI)
China's population grew by less than 1 percent annually in the last decade, but it still remains the world's largest at 1.37 billion people, according to results of the sixth national population census released in late April.
Figures released by the National Bureau of Statistics (NBS) show China's population grew 5.84 percent from 2000 to 2010, or 0.57 percent per year.
The nation's urban population increased 13.6 percent, making up 49.7 percent of the total population. Meanwhile, the population was increasingly getting older. People aged 60 years and older accounted for 13.26 percent of the population, an increase of 2.93 percentage points from 2000.
"The objective of the population census is to have a clear understanding of our national demographic conditions from all kinds of perspectives," said Ma Jiantang, Director of the NBS.
Ma interpreted some of the figures, saying according to results of the 2010 and 2000 censuses, the urbanization rate in China had risen rapidly. The population of eastern coastal areas also continued to swell, indicating the flow of migrants has much to do with development levels of different regions.
The census, for the first time, counted migrant workers where they were living, rather than where they were registered. It found more than 261 million Chinese had worked away from hometown for more than six months in 2010, almost double the figure in the previous census.
Population experts said the sixth population census revealed five major changes in China's population—higher education level, greater mobility, faster aging process, uneven distribution and improved gender ratio.
Census figures show the college attendance rate rose from 3.6 percent to 8.9 percent in the last decade, and 4.06 percent of the population received no schooling at all.
"The sixth census shows us the average education level for Chinese citizens has been greatly raised, and its speed exceeds the population growth, which had never been seen in human history before," said Hu Angang, Director of the Center for China Study that was jointly established by the Chinese Academy of Sciences and Tsinghua University, at a recent seminar.
Mu Guangzong, a professor at the Institute of Population Research of Peking University, said the core of China's population issue has shifted from quantity to its structure. "China has entered a stage of stable low fertility and low increase, and the fuse of the population explosion has been extinguished. More attention should be given to the low birth rate and age structure instead of the huge aggregate number," said Mu.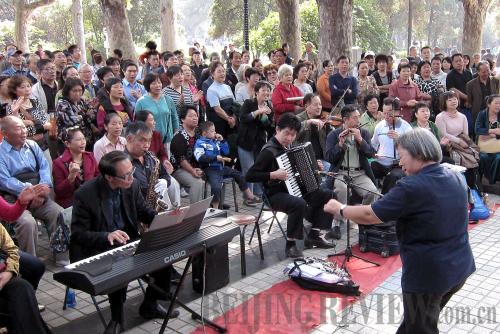 AGING ERA: A senior's choir performs in a park in Zhengzhou, Henan Province. People aged 60 years and older have accounted for 13.26 percent of the total population (WANG SONG)
Greater mobility
Census figures show 261 million Chinese people lived in places other than the towns (townships or streets) of their household registration where they had left for more than six months, an increase of 110 million or an 81-percent growth over a decade ago, which took many experts by surprise.
There had been population mobility in many other countries during certain periods, but what happened in China was the largest in terms of the number of migrants, with 40 percent being young people, said Li Jianmin, Director of the Population and Development Research Institute of Nankai University. He predicted the tendency would continue in the future.
But, due to nonconformity between rural and urban social security systems, the large migrant population was meeting with difficulties in having equal access to basic public services, said Zhai Zhenwu, Dean of the School of Sociology and Population of the Renmin University of China. "This could result in a series of social and economic problems," he said.