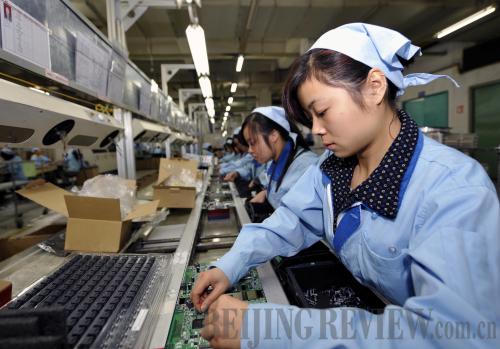 MAINSTAY: Female workers predominate in assembly line positions in Dongguan Gigabyte Electronics Co. in south China's Guangdong Province (CHEN YEHUA) 
Yi Rongrong, a postgraduate student at the Communication University of China in Beijing, describes her job-hunting process as a "bumpy road," though she has a good record in the university with quite a few scholarships and internship experiences at Xinhua News Agency and People's Daily, two of the leading media organizations in China.
Majoring in journalism, Yi wants to work in a media company. "I sent resumes to major media outlets in Beijing, but for most of them, I didn't even get a chance for a writing test," said Yi.
According to Yi, male students in her class, even some with much worse exam records than her, were more popular and get more offers. "Media outlets like male workers, as media work is very hard and tiring and women are considered to have fewer advantages in this regard," said Yi.
Yi finally got an offer from a newspaper in Beijing, but this won't get her a Beijing hukou, or registered permanent residence. "I want to stay stable in Beijing, but without hukou, I feel I am a floater here," said Yi, who hesitated about whether she should accept the offer or not.
"There are more female students than male students in this major. But as for job hunting, males get more chances. It is a conflict. If media companies all want male graduates, where should the women go?" said Yi's teacher, Zhang Mou.
"This doesn't only happen with job hunting in the media," said a 30-year-old woman surnamed Xie, who declined to give her full name. "It happens in every industry."
Xie has been working in a state-owned company based in Beijing for four years. "The company says in the employment advertisement that they only accept employees with a master's degree or higher," said Xie. "But, I finally realized this requirement was only established for female candidates, as I found out some of the men who got in here in the same year as me only had a bachelor's degrees or lower."
Less welcome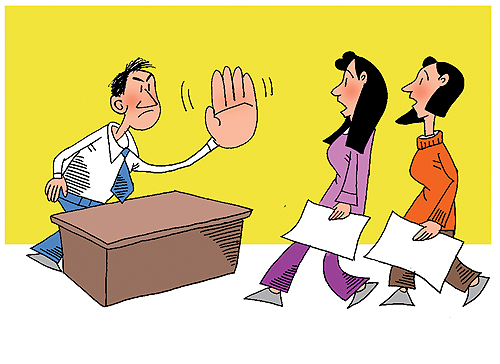 A survey conducted by the All-China Women's Federation at the end of 2010 showed 91.9 percent of women felt there was gender discrimination in the job market. While 90.2 percent of employers admitted when a woman and a man of similar qualification compete for the same position, they prefer the male giving the reason that the female candidate is very likely to get married soon and then give birth to children.
"We did hire more women than men in the last several years," said Sun Yan, a human resources manager of an advertising company based in Shanghai. "But problems showed up gradually as most new female entrants got married soon and had to pay more attention to taking care of the family. Things got much worse after they had children. So this year, we want to employ more men."
Even Sun, a 40-year-old woman, felt stressed and tired of competing with men in promotion. Having been working in advertising for more than 10 years, Sun said she went through a hard time dealing with both work and housework including taking care of her child.
"The tradition regards women as the group to spend more time at home," she said. "So women have to work harder to keep up with men at work. Actually we devote more."
"Even female managers won't hire other women, it is pathetic," said Bai Jia, a graduate from East China Normal University in Shanghai with a master's degree, majoring in English. "Many times I saw at job fairs women sitting at the recruitment booths, rejecting female job-hunters' resumes and saying they only wanted male workers. I don't understand it."