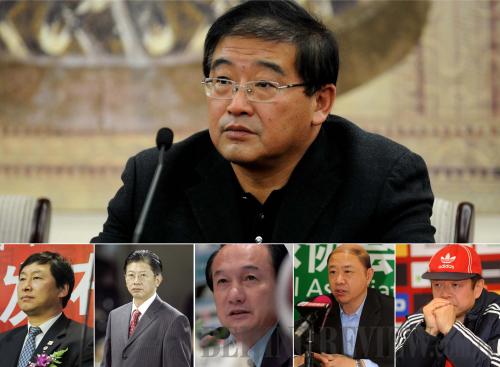 RISE AND FALL: Wei Di (above) takes over as director of the Soccer Administrative Center of the General Administration of Sport after an anti-corruption campaign sunk former soccer officials including Nan Yong, Yang Yimin, Xie Yalong, Li Dongsheng and Wei Shaohui (bottom, left to right) (XINHUA)
China's trouble-plagued top soccer league, the Chinese Football Association Super League (CSL), kicked off its 2011 season on April 2 without a sponsor or a national TV deal. Days before the new season, three former league referees, who are awaiting trial, revealed the extent of match-fixing scandals that have led to the punishment of clubs, officials, coaches and former players.
'Golden whistle' down
Three referees, including veteran "golden whistle" Lu Jun, have been arrested on charges of accepting bribes from soccer clubs, Law Online, a China Central Television (CCTV) program, said on March 30.
The program disclosed details of their involvement in corruption cases.
Lu, 51, officiated in two World Cup matches, several Asian Football Confederation tournaments and more than 200 domestic league matches before retiring in 2005. He was also honored as Referee of the Year twice by the Asian Football Confederation—in 1999 and 2004.
Lu confessed he had been asked by Zhang Jianqiang, his alumni at Beijing Sport University and a former official of the Chinese Football Association (CFA), to referee in Shanghai Shenhua's favor in its derby rivalry against Shanghai International on November 9, 2003. The two teams were both title hopefuls in that season of the CSL.
Lu manipulated the match by treating Shenhua players less strictly as Shenhua outplayed International in a 4-1 triumph and finally managed to win the year's league championship.
"I'm the middleman between the Shenhua club and Lu," said Zhang, revealing he was given commissions worth 700,000 yuan ($106,774). He and Lu each received 350,000 yuan ($53,387) afterward.
"I was sort of scared at that time because China had been cracking down on match fixing, but bribery of referees before matches was rife then," said Lu.
"I love the job of being a football referee and I paid a lot for it. But devotion doesn't mean indulgence in crime and it was greed which made me the person I am today," he said.
Other corrupt referees appearing in the CCTV program were Zhou Weixin and Huang Junjie.