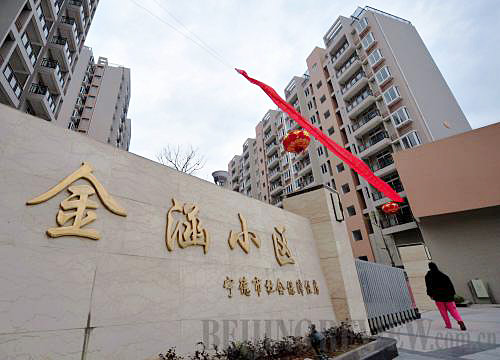 AFFORDABLE HOUSES: A resident walks into an affordable house community in Ningde City of southeast China's Fujian Province (WEN PEIQUAN)
Fourth, the government will establish a social security system covering both rural and urban residents. The pilot project for the new type of rural pension system will be extended from the current 24 percent to 40 percent of China's counties, and zero-income urban residents in these counties will also be covered by the pension system. Retired enterprise employees' pensions will be increased by 10 percent from the 2010 level this year.
Fifth, the government will push forward the development of cultural undertakings. Priorities will be given to cultural projects benefiting rural and grass-roots groups, and measures will be taken to ensure free admission to public cultural facilities, including museums, memorial halls and libraries.
Sixth, great efforts will be put into increasing funding for agriculture and agricultural infrastructure, especially water conservancy, river harnessing, reservoir renovation and projects to control such disasters as floods and mud-rock flow.
"This year the central budget will further increase spending on improving the people's living conditions," said Xie. "This means we will focus on some big projects that could ensure and improve people's well-being."
In contrast to the expenditure surge for people's livelihoods, governmental administrative expenses will be cut considerably this year. The central budget set aside 111.88 billion yuan ($18.09 billion) for administrative costs, up 4.3 percent year on year. Given the 4-percent cap of consumer price index growth set by the Central Government this year, the growth of administrative costs will be nearly zero.
The new budget showed the Central Government's guideline to allocate capital in improving people's livelihoods, promoting the upgrading of the economic growth mode and optimizing industrial structures, said Jia Kang, head of the Institute of Fiscal Science, a think tank affiliated with the Ministry of Finance.
The significance of China spending two thirds of its central budget on people's livelihoods this year is that public finance comes from people's taxes and should therefore be used to pay for upgrades to people's lives, said He Liping, a professor with the School of Economics and Business Administration at Beijing Normal University.
The spending hikes in public welfare will allow people to use their money instead of hoarding it away in banks for a rainy day, said He.
For too long, the Chinese economy has relied heavily on investment and exports, said He. Despite the fact that average incomes were low, the dearth of social security made Chinese people likely to save and reluctant to spend, said He.
While increasing spending on people's livelihoods, the central budget will alleviate low-income residents' burden on housing, medical and education costs, said He.
To be frank, He said, various efforts and attempts have been made to alleviate the shortage of public services in recent years, but these services still lag far behind people's demands.
The government should continue to increase the proportion of people's livelihoods in the central budget in the future to expand domestic demand and ensure people's well-being, said He.