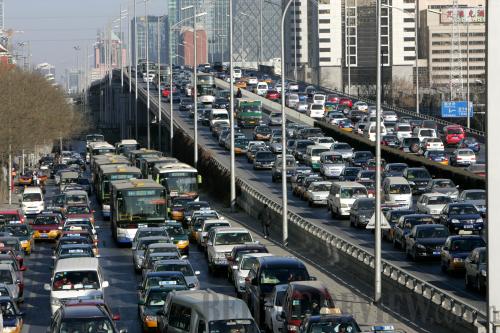 CHRONIC CONGESTION: Cars and buses inch along during the morning rush hour on Beijing's East Third Ring Road on December 23, 2010 (CFP) 
A lottery was broadcast live both on TV and over the Internet in Beijing on January 26. The "talk-of-the-town" lottery attracted at least 187,000 pairs of attentive eyes of people who were not yearning for money, but a privilege to own a car in a city notorious for its bad traffic.
A total of 17,600 car license plates were allocated to the lucky applicants participating in Beijing's first car-plate lottery. The first batch of car license plates for institutional applicants was also allocated through the lottery in February.
Starting January 1, all car buyers in Beijing have to apply first and then draw lots at monthly lotteries before they can obtain a car license plate. The new mechanism was launched to reduce the growth of new car ownership by allowing only 240,000 in 2011, or about one third of new cars registered in 2010.
In what Chinese Internet users described as "the toughest congestion-tackling measures in history," authorities in Beijing announced on December 23, 2010, they would slash new car registrations to ease traffic gridlock.
Extensive limits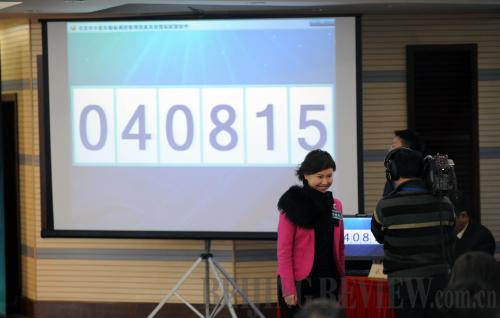 LUCKY NUMBER: At the site of Beijing's first lottery to allocate car license plates on January 26, the seed number, consisting of six digits selected by six public representatives randomly, appears on the screen (LI WEN) 
Data from the Beijing Municipal Commission of Transport (BMCT) show there were only 78,000 cars in Beijing in 1978 and 200,000 in 1985. However, the number of cars soared after the country entered the 21st century amid fast economic growth and urbanization.
Within 13 years, the number of cars in Beijing more than quadrupled to 4.8 million in 2010 from 1 million in 1997, according to the BMCT.
In the U.S. journal Foreign Policy's ranking of cities with the worst traffic, released in August 2010, Beijing stood atop of the list of places where "soul-crushing gridlock is a way of life."
Beijing's government agencies and public institutions are prohibited from increasing the size of their vehicle fleets for the next five years, says the new traffic improvement program.
Other measures include higher parking fees in the city's downtown areas and stricter traffic rules for cars from other provinces.
In addition to the current restriction that bans Beijing car owners from driving one day each week based on the last digit of their license plates, an odd-even license plate number system could be introduced to allow cars to be driven every other day in peak hours in some congested areas "when necessary." Traffic authorities also have got the approval to levy a traffic congestion charge in heavy traffic areas.
The program also says the development of new large residential areas and satellite cities will take into consideration Beijing's industrial development programs, in hopes of enabling residents to work closer to home. It also encourages public service institutions and businesses to adopt staggered working hours to alleviate traffic jams.
As part of Beijing's efforts to improve its public transit system, the city opened five new suburban subway lines on December 30, 2010, with a combined length of 108 km, bringing the city's total number of subway lines to 14 and the total length to 336 km.
The strict traffic rules, backed up by the newly opened subway lines, have already proved effective in easing traffic congestion in Beijing, according to officials.
"On average, the duration of traffic jams has been reduced by more than two hours per day, from 3 hours and 55 minutes at the end of 2010 to the current 1 hour and 45 minutes," said BMCT Deputy Director Li Xiaosong on January 12.
Li's commission has unveiled an index system of Beijing's traffic congestion, the first for the city. According to the system, the 0-2 range signifies "smooth" traffic; 2-4, fairly smooth; 4-6, slightly congested, 6-8, moderately congested, and 8-10, heavily congested.
"For a long time before 2010, Beijing's congestion index had stood above 8.2, but it has remained at 6 since January 1," Li said.
However, the city government warns a string of new traffic measures are not enough to eliminate Beijing's gridlock once and for all.
Speaking at the annual session of the city's legislature on January 16, Beijing Mayor Guo Jinlong said soaring housing prices and traffic congestion were the major pests that harass Beijing's social and economic development.
He said easing congestion remained a pressing job in a city with 20 million people and 4.8 million vehicles, but vowed to effectively curb the problem in five years.