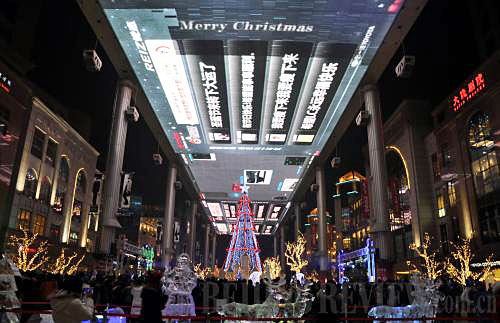 BIG SCREEN: Micro-blog posts on t.sina.com, China's largest micro-blogging site, are shown on the world's largest LED screen in Beijing's The Place shopping center on December 25, 2010, as part of a Christmas celebration (IC)
On the evening of December 23, a post on the micro-blog of Hunan Communications Radio caught the attention of netizens. A pregnant woman in Hunan Province, Xie Langui, suffered from a hemorrhage while giving birth and was in great need of blood platelets.
Xie's blood type, RH-negative, type AB blood, is very rare and regarded as "panda blood." The Hunan Women and Children's Hospital, where Xie stayed, had stocks of the blood but no blood platelets, which need to be processed with the fresh blood and can only be kept for three days.
At 9 p.m. the hospital called Hunan Communications Radio for help, the station put this information on its micro-blog. The post was immediately forwarded through tens of thousands of bloggers and within two hours, five people with "panda blood" contacted the radio station willing to donate blood platelets. At 2 a.m. on December 24, there were altogether eight people with "panda blood" at the hospital while the hospital needed three at most. Xie's life was saved.
"We could never imagine this happening so fast," said a doctor surnamed Zhou from the hospital. "Only one out of several thousands has this rare blood type. In the past, it was almost hopeless to find even one in such a short time."
This is not the first case of micro-blogs coming to the rescue in a medical emergency. In March 2010, a 93-year-old woman with "panda blood" in Sichuan People's Hospital also needed an emergency blood transfusion. A young woman staying in the same ward wrote a post on her micro-blog asking for help and got 3,000 responses within half a day. A lady of the same blood type flew from neighboring Yunnan Province to Sichuan for the transfusion. Finally five people showed up at the hospital on the same day and the woman survived.
Fast Pace
The year 2010, which witnessed an explosion of micro-blogging, is regarded as the inaugural year for China's micro-blogging. According to the 2010 China Micro-blog Annual Report released by Shanghai Jiao Tong University, by October 2010, there had been 13 million micro-blog users in China and micro-blogging has become a new channel for citizens to express their opinions on hot social issues.
The report also says micro-blogging will develop at a fast pace and become a common way for netizens to communicate with each other. Xie Gengyun, a professor at Shanghai Jiao Tong University and lead author of the report, said more netizens are turning to micro-blogs to express their ideas instead of blogs or online forums.
In 2010, among the top 50 hot social issues in China, 11 involved micro-blogs, and this number will probably increase in 2011, the report says.
Actually, micro-blogging is not new in China. In May 2007, China's first micro-blog website Fanfou.com was founded by Wang Xingyu. Fanfou means "have you eaten yet?" It is a common way for Chinese to say "hi." Wang used this word to show micro-blogging was a very casual means of communication.
In the first half of 2009, the number of micro-bloggers on Fanfou.com increased from 300,000 to about 1 million. In June 2009, it got its first commercial advertisement and started to make money. At the same time, celebrities opened micro-blogs on Fanfou.com, which made it more famous.
In the latter half of 2009, major Web portals on the Chinese mainland, such as Sina.com, 163.com, QQ.com and Sohu.com, all offered micro-blogging service and Sina.com soon became the leader with most users.
According to statistics from Sina.com, in July 2010, there were altogether 90 million posts on its micro-blogging site, t.sina.com, and this number increased by 3 million every day, which means each second there were 40 new posts on it. From March to June 2010, the number of micro-blog users in China increased from 153 million to 417 million.
"I think there are two reasons that micro-blogging is so popular," said Cao Zenghui, Executive Marketing Director of t.sina.com. "First is that it is open, which is different from instant messengers such as MSN, and second is that it can broaden social network and make people meet more friends."
Bai Xiaofei, a student from Beijing Language and Culture University, has been a micro-blogger for half a year.
"It is a much freer way to communicate and you can track celebrities and see what they are doing," said Bai. "I can read opinions and news, which is more interesting than textbooks."