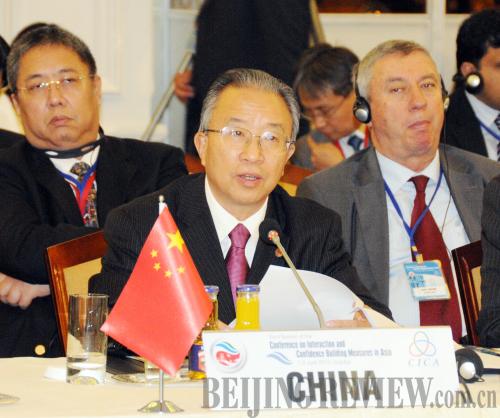 Chinese President Hu Jintao's special representative and State Councilor Dai Bingguo presents a speech at the Third Summit of the Conference on Interaction and Confidence-building Measures in Asia (CICA), which was held in the Turkish city of Istanbul on June 8, 2010 (CHEN MING)
The CPC Central Committee's Proposal for Formulating the 12th Five-Year Plan for China's Economic and Social Development adopted by the Fifth Plenary Session of the 17th CPC Central Committee has drawn the grand blue print for China's development in the next five years. It is reiterated in the part on external relations that China stands firmly for peace, development and cooperation, pursues the independent foreign policy of peace, sticks to the path of peaceful development and the win-win strategy of opening-up, safeguards China's sovereignty, security and development interests, and is ready to work with other countries to build a harmonious world of lasting peace and common prosperity. This explains fully China's external stance, its path of development, its goal and the way to achieve the goal. Therefore, it has great relevance and far-reaching significance to China's diplomacy under the new circumstances.
1. Why has China chosen the path of peaceful development?
To stick to the path of peaceful development is not an impulsive decision. On the contrary, it is a carefully considered choice based on our analysis of the great changes that have taken place in the world, in China and in China's relations with the rest of the world. We realize that we must adapt to the changing situation and follow a path that suits the trend of world development and China's national conditions.
The world is undergoing extensive and profound changes. Economic globalization and development of information technology are gaining momentum. Science and technology are advancing fast. The world is getting smaller and has become a "global village". Countries are more closely linked and interdependent with their interests more closely integrated than ever before. They find more areas of common interests and more issues that need joint response. They want to engage in mutually beneficial cooperation more than ever before. To some extent, the world has become a community of interests. No country, even the most powerful ones, can stand alone and survive. The behavior of one country will have an impact not only on itself, but also on other countries. Those selfish practices of conquering or threatening others by force, or seeking development space and resources by non-peaceful means are losing ground. It has also become very unpopular for some countries to identify friends and foes on the basis of ideology and gang up under various pretexts in quest of dominance of world affairs. In response to increasing risks and challenges, the international community has opted for peace, development and cooperation, which is the irresistible trend of the times. Countries should consider themselves passengers in the same boat and cross the river peacefully together instead of fighting one another and trying to push one another off the boat.
China is undergoing extensive and profound transformation. More than 30 years of reform and opening up has brought about earth-shaking changes in the country: from "taking class struggle as the key principle" to focusing on economic development and building socialist modernization on all fronts, from planned economy to socialist market economy through reform across the board, from a closed society and over emphasis on self-reliance to opening up and international cooperation, from emphasis on ideology in external relations to advocating harmonious co-existence of various social systems and development models and developing external relations in an all-round way. All this calls on us to act in light of the basic national conditions and features of development at the current stage of our country, deepen the reform and opening up and accelerate the transformation of economic growth pattern.
China's relations with the rest of the world have also undergone historic changes. With deepening reform and opening up and sustained economic and social development, China is increasingly integrated into the international community and closely connected with the world. Its future and destiny is increasingly linked with that of the world. China cannot develop in isolation of the world. And the world cannot achieve prosperity and stability without China. If we fail to manage well our relations with the rest of the world, we might miss the development opportunities provided by the overall peace in the world, relative stability in relations between major countries and fast progress in new science and technology revolution in the first 20 years of the new century.
2. What is the path of peaceful development?
Sticking to the path of peaceful development is a brand new development path put forward by the CPC Central Committee with Comrade Hu Jintao as the General-Secretary on the basis of the features of the times, China's national conditions, domestic and international situations, and development experiences and lessons of other major countries. This is a major decision on China's development strategy and a major statement of China's external strategy.
In my view, there are five features of this path. First, the peaceful nature of development. China will not engage in invasion, plundering, war or expansion that Western powers used to practice. Our strength will be harnessed to serve world peace and integrate development with peace. Second, the independent nature of development. Independence is the fundamental feature of China's diplomacy. And self-reliance is our fine tradition. Over the past 30 years and more, in our efforts to develop the country, we have mainly relied on reform and opening up, our own wisdom and hard work, expanding domestic demand and transforming economic growth pattern. Third, the scientific nature of development. According to the requirement of the Scientific Outlook on Development that puts people first and pursues comprehensive, coordinated and sustainable development, we have intensified efforts to promote sound and fast economic development and the building of a harmonious society with a view to securing a sound domestic environment for peaceful development. Fourth, the cooperative nature of development. China is a member of the international community. It best serves our own and others' interests to cooperate with others, and share interests and responsibilities. In external relations, we advocate friendship instead of animosity, cooperation instead of confrontation, trust instead of suspicion, and treating each other as equals instead of imposing one's will on others. Fifth, common development. China's national interests are consistent with the common interests of mankind. In developing itself, China aims to achieve common development with other countries and never does anything at the expense of others. We know full well that if a country wants to develop itself, it must let others develop too. If a country wants to have security, it must make others feel safe too. And if a country wants a better life, it must let others have it too.