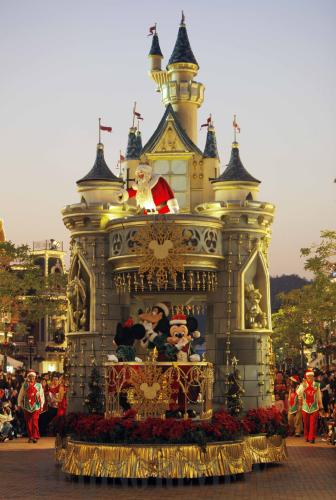 Disneyland in Hong Kong (CFP)
The establishment of Hong Kong Disneyland made negotiations between Shanghai and Disney much harder. There was fierce debate centered on whether a second Disneyland was needed in China.
"If a Shanghai Disneyland is built, it is certain many mainland tourists would choose Shanghai instead of Hong Kong," He said. This became a major barrier to negotiation.
As early as 2000, Xu Kuangdi, then Mayor of Shanghai, said 100 million richest Chinese lived in the Yangtze River Delta where Shanghai is located, and they themselves could sustain a Disney park. They also wanted it. To this end, the Pudong New District reserved a piece of land for a theme park for more than 10 years, said professor He.
In the next 10 years, with the rapid economic growth of China, Shanghai rose to be a financial center and the consumption capacity of the Chinese also became greater, which increased the feasibility of building another Disney theme park in China.
In 2009, Shanghai officials said the city was fully prepared to host a Disneyland.
Driving a new economy
Disneyland will become a new engine for Shanghai to power its economy in the wake of the World Expo. It is estimated when Disneyland is built, it will provide 50,000 new jobs. The fun park is also expected to attract around 80 percent of mainland tourists, as well as part of the tourist flow from other Asian countries.
Zhu Lianqing, a researcher from the Shanghai Academy of Social Sciences, says the Disneyland project will bring the area huge benefits. The project will boost economic development in Shanghai and benefit many sectors, including real estate, tourism, retail, and the animation industry.
Many people living in areas adjacent to the planned park think when the park is completed and with the improvements to transport systems, the value of their properties will rise considerably.
Yang Yu, a research fellow with the National Development and Reform Commission, said in an interview with CCTV the park would not only lift the value of nearby real estate and boost tourism but would also be helpful in transforming the city's economic structure, which would move from depending mainly on manufacturing to service industries. During this transformation, the city still needs competitive brands and products. So building a Disneyland is an important step for the city to realize this purpose.
Concerns
Although there were low construction costs and millions of domestic tourists are expected, and experience based on the operations of the other five Disney theme parks could help Shanghai Disneyland succeed, the fun park still needs to further reduce costs of construction and operation and introduce new attractions to ensure making profits.
Setting the prices of tickets is also crucial. A questionnaire done by the Shanghai Morning Post shows ticket prices concern tourists the most. Ninety percent of the respondents said the price would be acceptable if it was 400 yuan ($61) or below. Other matters that concerned respondents were transportation and operation times.
"I am really looking forward to the Shanghai Disney theme park. We are a generation that grew up watching Disney cartoons. Even now, I like Mickey and Donald Duck very much," said Zhao Jingna, a 29-year-old white collar worker in an education service company in Beijing.
But not all have great expectations for the park. Zhang Xiaoli, a postgraduate at Beijing Language and Culture University, said ticket prices were too high for a student, even at 400 yuan.
Disneyland will also encounter competition from domestic amusement parks in China such as Happy Valley, an entertainment theme franchise which has opened in Beijing, Shanghai and Shenzhen. Happy Valley has developed rapidly in recent years in the domestic market and is loved by a great number of tourists. Its ticket price is much lower than the average price of Disney parks.
The entry of Disneyland will bring about pressure on the domestic popular culture industry. The cooperation agreement also authorized the joint venture to produce cartoon movies and TV shows. These will promote both the Disney brand and the Shanghai park. It is also to publish a Disney-branded magazine. The agreement also calls for the joint venture to authorize local manufacturers to produce Disney-branded toys in China and sell them internationally.
But many Chinese from popular culture and entertainment industries are not overly worried about the impending competition.
"The entry of Disneyland into China provides a good opportunity for the Chinese animated movie industry to learn. Disney has first-class ideas and experience in animated movie making, which is what the Chinese animation industry needs to learn," said Zhou Ying, who works at the Cartoon and Animation Industry Base in Shanghai.