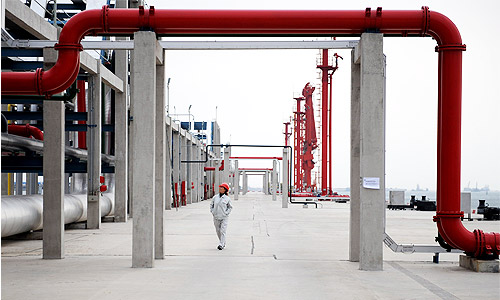 TOP PLAYER: A worker walks around a PetroChina oil refinery facility in Qingzhou, Guangxi Zhuang Autonomous Region. The company ranked third among China's largest companies in 2010 (ZHANG AILIN)
On August 31, the All China Federation of Industry and Commerce (ACFIC) released the report of 2010 China's Top 500 Private Enterprises, providing an inside look into the country's private economic landscape. In 2009, the profit-to-revenue ratio of private companies in the country stood at 5.79 percent, compared with 5.38 percent of SOEs. In addition, the profit-to-asset ratio of the private companies was 3.14 percent, compared with 1.5 percent for SOEs.
Private enterprises also have the advantage of labor productivity. Per-capita profit at SOEs was 52,700 yuan ($7,866) in 2009, far less than the 78,600 yuan ($11,731) for private companies. Meanwhile, per-capita revenue for SOEs was 978,800 yuan ($146,090), well below private enterprises' 1.359 million yuan ($202,836).
China's private companies have showed remarkable resilience against the financial crisis and are moving quickly out of the shadow of the economic downturn, said the ACFIC report. China currently has 95 private enterprises each with assets worth more than 10 billion yuan ($1.5 billion), a sharp increase from 65 in 2008.
In the wake of the financial crisis, private companies have strengthened their efforts to improve their technological strength, management expertise and brand recognition. They are also accelerating the pace of going global, said the report.
In 2009, 117 private companies invested in 481 projects overseas, bringing accumulated outbound investments by the private sector to $2.25 trillion.
Narrowing the gap
China's 2010 top 500 firms generated a net profit of $220.2 billion, representing a surge of 20 percent year on year, 3.2 percentage points faster than global top 500 companies.
The country's biggest companies are also making progress with indigenous innovation, as evidenced by an increase in their patent applications. According to data from the World Intellectual Property Organization, China's applications soared 29.7 percent year on year to 7,946 in 2009, the fifth largest in the world. China's 2010 top 500 companies owned 169,000 patents, growing 13.3 percent from the previous year.
While American and European businesses are still reeling, Chinese companies are gaining strength, said Yang Du, a business professor at Renmin University of China.
Miao Rong, a researcher at the CEC, agreed. "Changes are taking place to the corporate world, with more Chinese firms quickly catching up," said Miao. "Many Chinese companies are no longer followers, but challengers of the multinationals."
However, Chinese firms still have a long way to go in terms of business scale, corporate management, innovation capacity and globalization, said Huang Shuhe, Vice Chairman of the State-owned Assets Supervision and Administration Commission of the State Council.
For example, the most profitable companies in the United States are from hi-tech and service sectors like pharmaceuticals, Internet services and retail sales. But in China, they are mostly traditional businesses such as banking, port services and alcoholic beverage makers.
Now, Chinese companies need to bridge the gap with global giants through innovation and management improvement, said Huang.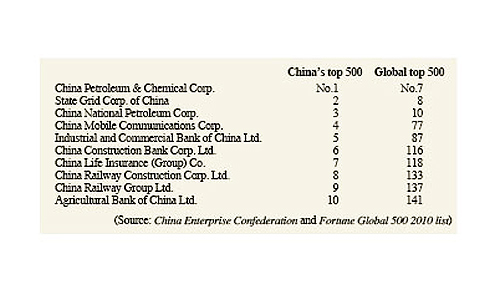 China's Top 10 Private Companies
1. Jiangsu Shagang Group Co. Ltd.
2. Suning Appliance Chain Store (Group) Co. Ltd.
3. Legend Holdings Ltd.
4. Guangsha Holding Venture Capital Co. Ltd.
5. New Hope Group Co. Ltd.
6. Hainan Airlines Co. Ltd.
7. Jiangsu Yurun Food Group Co. Ltd.
8. Hangzhou Wahaha Group Co. Ltd.
9. Xinjiang Guanghui Industry Investment (Group) Co. Ltd.
10. BYD Auto Co. Ltd.
(Source: All China Federation of Industry and Commerce)