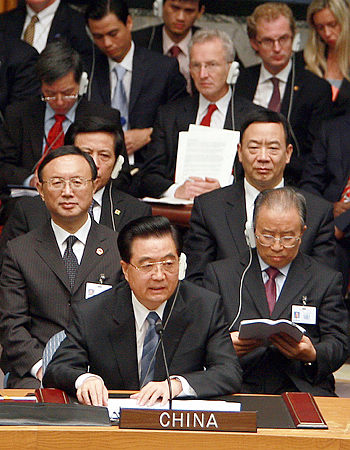 ACTIVE PARTICIPANT: Chinese President Hu Jintao delivers a speech at the UN Security Council summit on nuclear non-proliferation and disarmament in New York on September 24, 2009 (JU PENG)
In the future, China will take this fully into account. The escort fleet of the Chinese Navy protecting merchant ships against pirates off Somalia in the Gulf of Aden is an example. It is the first time the Chinese Navy has conducted military operations abroad. Had the escorts not been authorized by the UN Security Council, a new round of "China threat" accusations would have emerged in the international community. Since the mission is authorized by the UN, China has not received any criticism, and is thought to have demonstrated responsibility.
In which areas can China make greater contributions to the UN?
First of all, China will make much greater financial contributions to the UN. China's membership fee has increased for four consecutive years to about 3.1 percent of the UN budget. According to UN regulations, a member state whose per-capita national income is less than $7,000 could enjoy an 80-percent discount. In other words, it needs to pay only 20 percent of the fee it ought to pay.
Currently, China's per-capita GDP has reached $3,700. This figure is sure to double in the next decade. By that time, China's per-capita income will exceed the threshold of $7,000. It will not be able to enjoy the discount any more. It is estimated that China's membership fee will rise to the third highest in the world, behind the United States and Japan.
At present, most of China's assistance to other developing countries is not implemented through the UN. But in fact, they are in line with the UN Millennium Development Goals. In the future, China could make better use of the UN platform to conduct cooperation with Africa and Latin America. This could also be a contribution of China to the UN.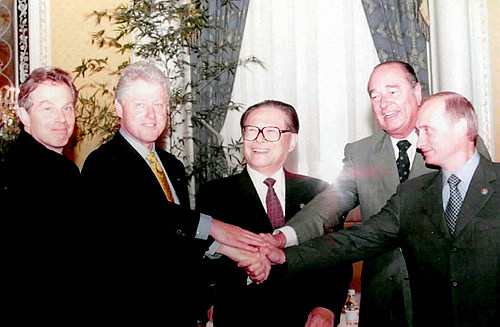 JOINING HANDS: Former Chinese President Jiang Zemin (center) attends the first summit of the permanent members of the UN Security Council in New York on September 7, 2000 (XINHUA)
In addition, China could contribute more to UN peacekeeping. It could make further contributions in this area by sending organized combat troops to UN peacekeeping missions.
What is your opinion on the reform of the UN Security Council?
The structure of the UN Security Council was established after World War II. It is a reflection of postwar international relations. Sixty-five years have passed and great changes have taken place in the world. Therefore, it is essential for the UN Security Council to reform. Without reform, it cannot catch up with the times.